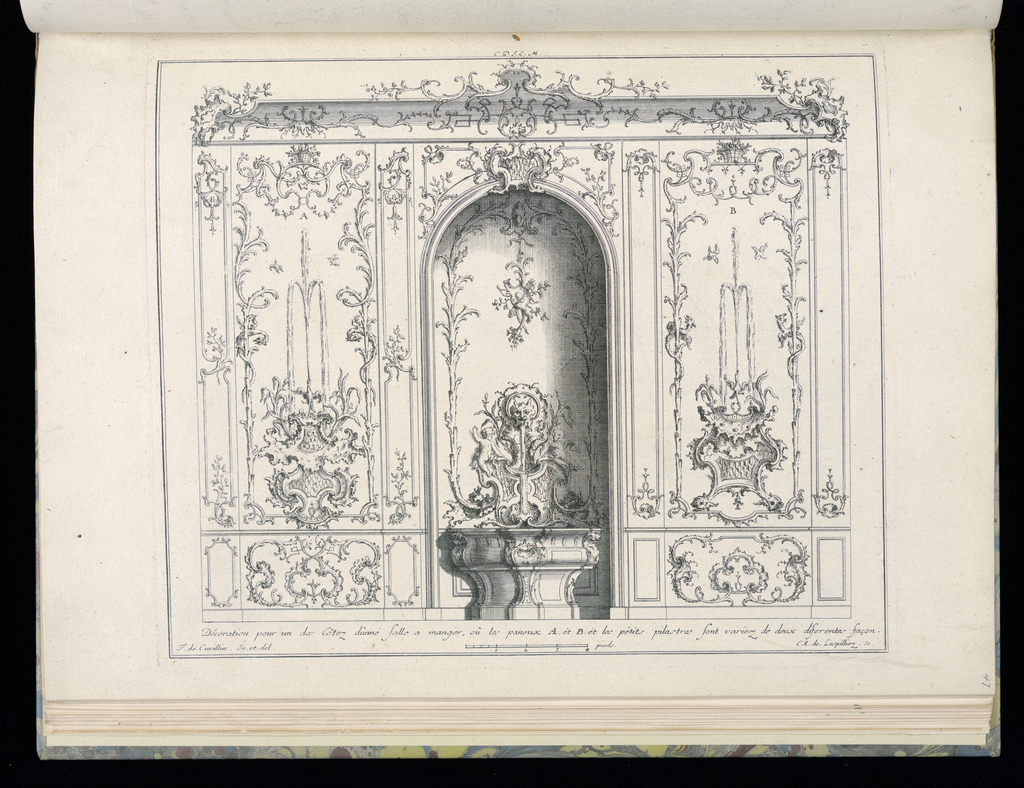 Bound Print, Wall Niche with Fountain, Nouveaux desseins de Lambris (New Wainscoting Designs), 18th century
This is a Bound print. It is dated 18th century and we acquired it in 1920. Its medium is engraving on paper. It is a part of the Drawings, Prints, and Graphic Design department.
This object was catalogued by Julie Pastor. It is credited Purchased for the Museum by the Advisory Council.
Its dimensions are
Platemark: 25.5 × 30.2 cm (10 1/16 × 11 7/8 in.)
It is signed
Printed in plate, lower left: F. de. Cuvillies. In. et. del.; lower right: CA. de. Lespilliez. sc.
It is inscribed
Printed in plate, upper center: C. P. S. C. M.; Décoration pour un des Côtez dûnne salle a manger, oû les paneux [sic] A. ét B. ét les pétits pilastres sont variez de deux diferentes façon.; inscribed in graphite, vertically, lower right: 47
Cite this object as
Bound Print, Wall Niche with Fountain, Nouveaux desseins de Lambris (New Wainscoting Designs), 18th century; Germany; engraving on paper; Platemark: 25.5 × 30.2 cm (10 1/16 × 11 7/8 in.); Purchased for the Museum by the Advisory Council; 1921-6-282-48