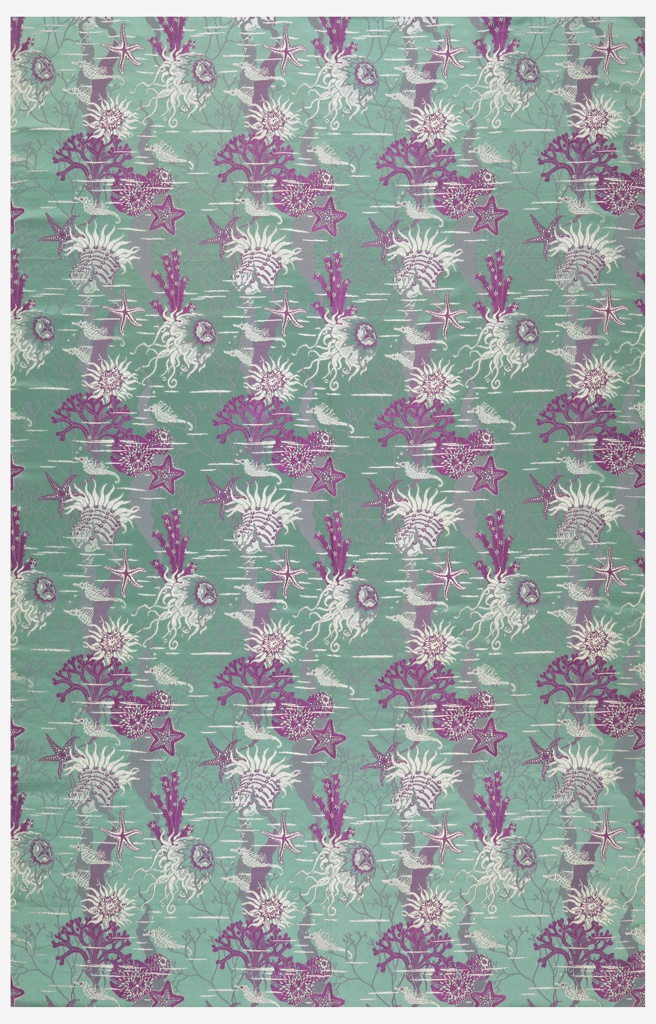 Object Timeline
| | |
| --- | --- |
| -0001 | |
| 1925 | Work on this object began. |
| 1931 | |
| 2012 | |
| 2017 | |
| 2022 | |
This is a Textile. It was manufactured by Tassinari & Chatel. It is dated 1925 and we acquired it in 1931. Its medium is warp: silk weft: tussah silk and its technique is compound satin weave. It is a part of the Textiles department.
Tassinari & Chatel was one of the great French silk manufacturers of the 1920s. Their quest for new patterns to satisfy a growing consumer market contributed to the wealth of textiles produced during the decade.
This textile is one of four produced by the company based on Clarinval's gouache series, The Four Elements: Water, Fire, Earth, and Air, and exhibited at the Exposition Internationale des Arts Décoratifs in Paris in 1925.
In Water, the rich details of Clarinval's artful composition of starfish, jellyfish, sea horses, and coral are masterfully transposed into sumptuous woven cloth.
This object was donated by Unknown. It is credited Gift of Anonymous Donor.
Our curators have highlighted 6 objects that are related to this one. Here are three of them, selected at random:
Its dimensions are
H x W: 201.9 × 128.3 cm (6 ft. 7 1/2 in. × 50 1/2 in.)
Cite this object as
Textile, L'Eau (Water); Manufactured by Tassinari & Chatel (France); France; warp: silk weft: tussah silk; H x W: 201.9 × 128.3 cm (6 ft. 7 1/2 in. × 50 1/2 in.); Gift of Anonymous Donor; 1931-1-1