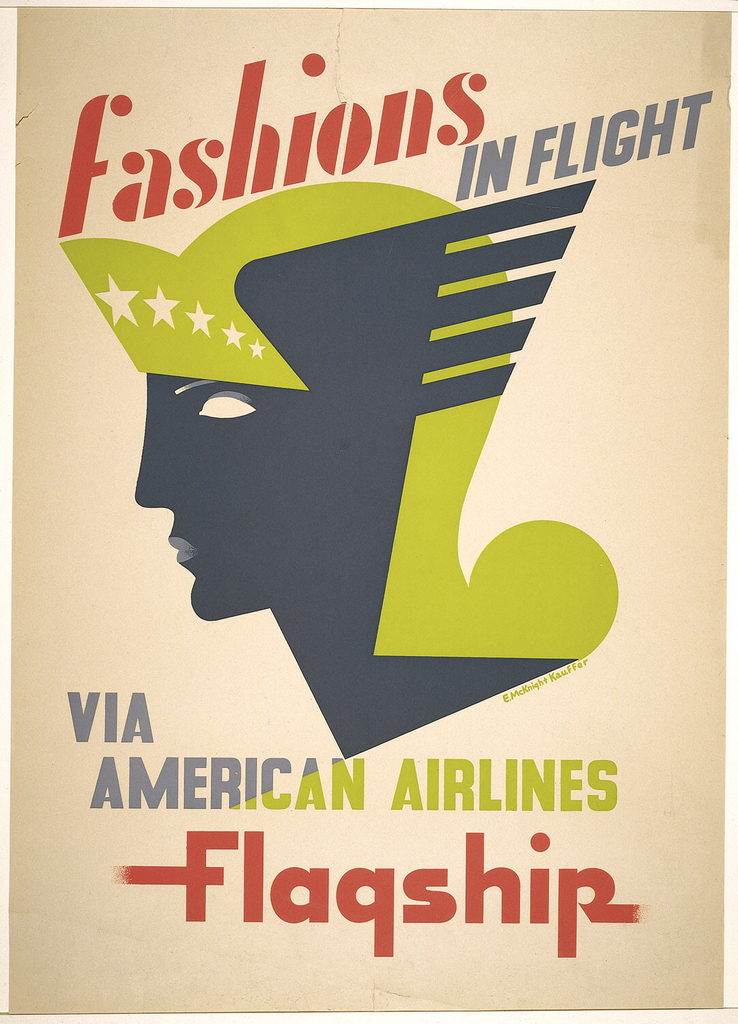 Object Timeline
| | |
| --- | --- |
| -0001 | |
| 1948 | Work on this object began. |
| 1963 | |
| 2013 | |
| 2018 | |
Poster, Fashions in Flight, American Airlines, 1948
This is a poster. It was designed by Edward McKnight Kauffer and made for (as the client) American Airlines. It is dated 1948 and we acquired it in 1963. Its medium is screenprint on tan wove paper. It is a part of the Drawings, Prints, and Graphic Design department.
This object was featured in our Object of the Day series in a post titled Fashions in Flight.
This object was donated by Mrs. Edward McKnight Kauffer and catalogued by Virginia McBride. It is credited Gift of Mrs. E. McKnight Kauffer.
Our curators have highlighted 4 objects that are related to this one. Here are three of them, selected at random:
Its dimensions are
86.7 x 60.8 cm (34 1/8 x 23 15/16 in. )
It is signed
Printed in script in chartreuse ink, center right: E. McKnight Kauffer
Cite this object as
Poster, Fashions in Flight, American Airlines, 1948; Designed by Edward McKnight Kauffer (American, active England, 1890–1954); USA; screenprint on tan wove paper; 86.7 x 60.8 cm (34 1/8 x 23 15/16 in. ); Gift of Mrs. E. McKnight Kauffer; 1963-39-132