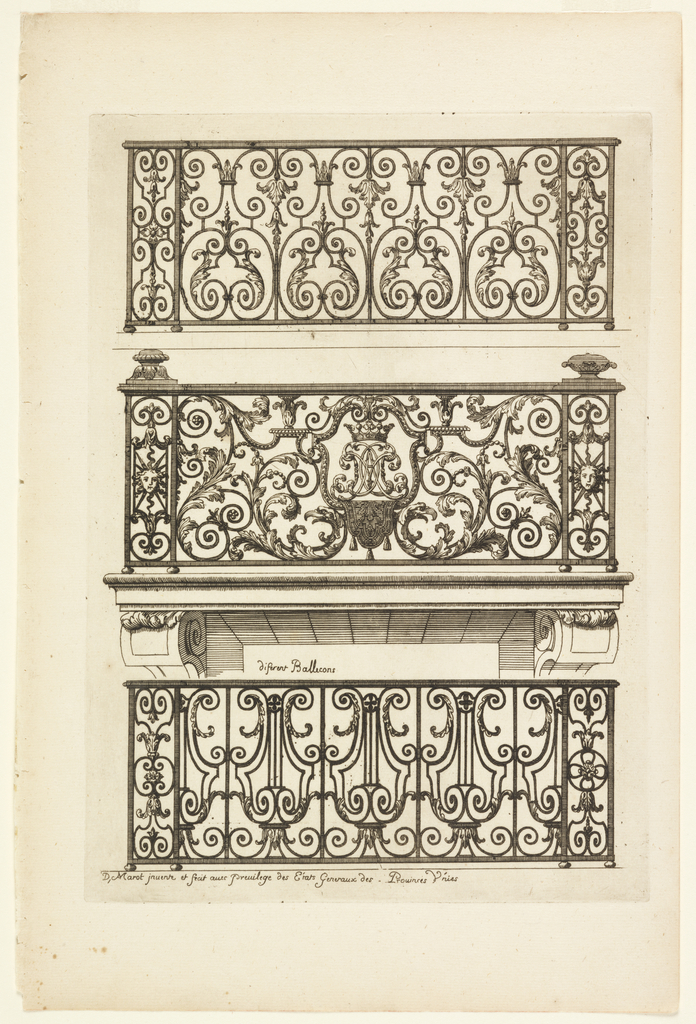 Print, Diferent Ballicons (Different Balconies), in Nouveau Livre de Serrurie (New Book of Ironsmithing)
This is a Print. It was designed by Daniel Marot. It is dated ca. 1700 and we acquired it in 1988. Its medium is etching and engraving on white laid paper. It is a part of the Drawings, Prints, and Graphic Design department.
It is credited Museum purchase from General Acquisitions Endowment Fund.
Its dimensions are
Sheet: 35 x 23.5 cm (13 3/4 x 9 1/4 in.) Platemark: 27.8 x 20.2 cm (10 15/16 x 7 15/16 in.)
It is signed
Signed in plate, lower margin: D, Marot invente et fecit auec privilege des États Generaux des - Provinces Unies
It is inscribed
Inscribed in plate, center: diferent Ballicons
Cite this object as
Print, Diferent Ballicons (Different Balconies), in Nouveau Livre de Serrurie (New Book of Ironsmithing); Designed by Daniel Marot (French, active in the Netherlands and England, 1661–1752); Netherlands; etching and engraving on white laid paper; Sheet: 35 x 23.5 cm (13 3/4 x 9 1/4 in.) Platemark: 27.8 x 20.2 cm (10 15/16 x 7 15/16 in.); Museum purchase from General Acquisitions Endowment Fund; 1988-4-10