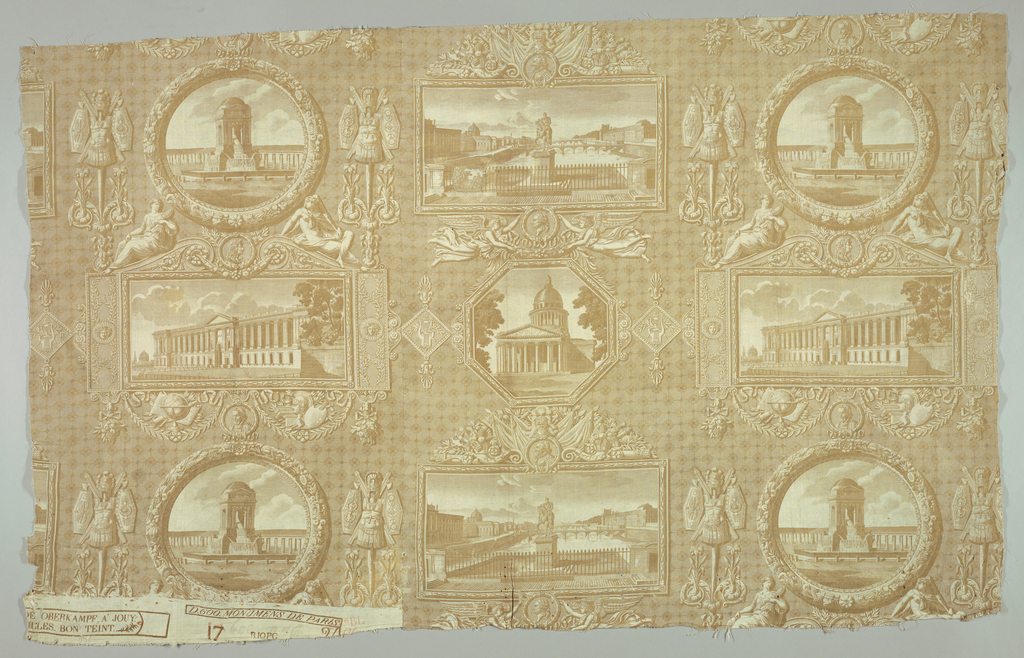 Chef De Piece, Monuments de Paris
This is a chef de piece. It was designed by Hippolyte Le Bas and manufactured by Oberkampf & Cie. and engraved by Leisner. It is dated ca. 1815 and we acquired it in 1994. Its medium is cotton and its technique is printed by engraved roller on plain weave. It is a part of the Textiles department.
This object was donated by Cora Ginsburg. It is credited Gift of Cora Ginsburg.
Its dimensions are
Warp x Weft: 84 x 132 cm (33 1/16 x 51 15/16 in.) Repeat H: 52 cm (20 1/2 in.)
It is inscribed
Stamp at the end of one length bearing half of the Oberkampf factory mark in use from 1792 to 1815. Also in brown: D600 Monumens de Paris (within box), 17, BIOPG, 24. In red: 24(6)BL and DL. Handwritten in ink (very faded): 600 DNG.
Cite this object as
Chef De Piece, Monuments de Paris; Designed by Hippolyte Le Bas (1782 – 1867); France; cotton; Warp x Weft: 84 x 132 cm (33 1/16 x 51 15/16 in.) Repeat H: 52 cm (20 1/2 in.); Gift of Cora Ginsburg; 1994-80-3