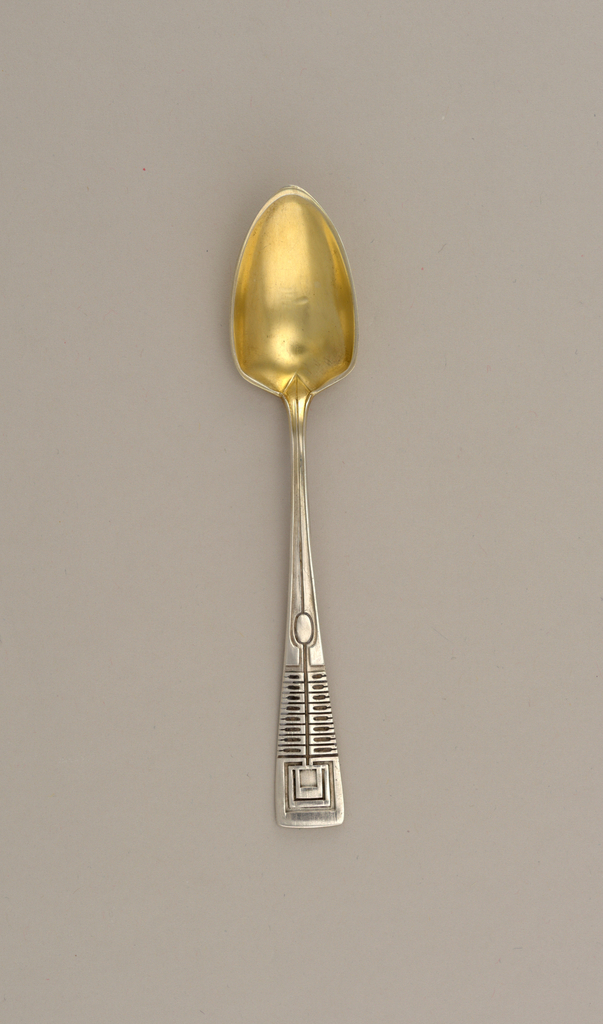 This is a Spoon. It was designed by Peter Behrens and manufactured by Martin Josef Rückert. It is dated 1902 and we acquired it in 1996. Its medium is silver, silver gilt. It is a part of the Product Design and Decorative Arts department.
It is credited Museum purchase from Pauline Cooper Noyes and Decorative Arts Association Acquisition Funds.
Its dimensions are
cm: L: 11.5 x W: 2
It has the following markings
On reverse of bowl: "R" with wheel for Ruckert, symbol for German mark indicating production of 1888 and later (crescent moon and crown) with "800" struck over previous mark.
Cite this object as
Spoon (Germany); Designed by Peter Behrens (German, 1868–1940); Manufactured by Martin Josef Rückert (Germany); silver, silver gilt; cm: L: 11.5 x W: 2; Museum purchase from Pauline Cooper Noyes and Decorative Arts Association Acquisition Funds; 1996-106-8