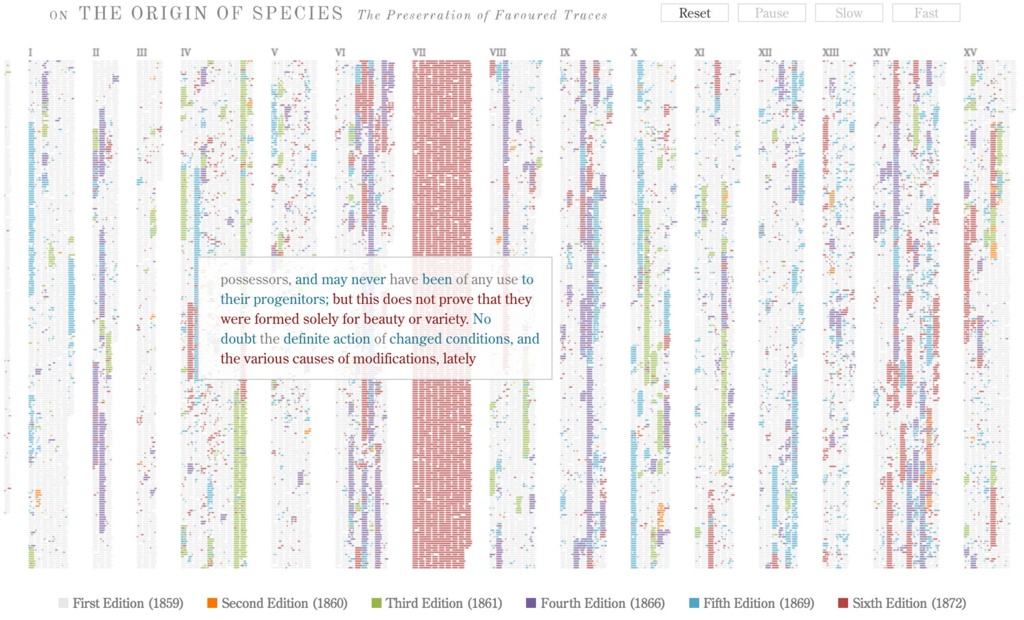 Object Timeline
2009

Work on this object began.

2017

We acquired this object.

We exhibited this object.

2020

2022
Interactive Visualization, On the Origin of Species: The Preservation of Favoured Traces
This is a Interactive visualization. It was designed by Ben Fry. It is dated 2009 and we acquired it in 2017. Its medium is processing software. It is a part of the Digital department.
On the Origin of Species: The Preservation of Favoured Traces is an interactive visualization by Ben Fry that traces Darwin's revisions to his seminal text, On the Origin of Species, as it evolved over six editions. At almost 150,000 words, the text of the first English edition appears on screen in gray, arranged in columns that show the book's fourteen chapters and introduction. Each edition's color-coded changes appear successively over time, illustrating Darwin's refinements and updated ideas to his treatise. New text from the second edition is added in red. The third edition's changes are codified in green, and the fourth edition's changes added in orange. Changes to the fifth edition are colored blue. The sixth and final edition's changes are codified in green and reveal a newly added chapter. By the end, the text has grown in size to more than 190,000 words. Moving the mouse around the screen reveals magnified versions of the color-coded text.

Ben Fry works with big data sets. Over its six editions, Origin of Species totals more than a million words of text. (Fry added a cheeky bit of text to appear online as the piece quickly loads: "It's fourteen years of Darwin's life, but loading it should only take a few seconds.") Rather than presenting a survey of this data, Fry illuminates Darwin's process by animating the data itself. Fry first attracts our eye with motion. As words, sentences, and paragraphs are added or excised from the text, the columns twitch and contract. We can see Darwin tweaking, refining, shifting, and clarifying his ideas over the course of six editions, which spanned fourteen years of his life. Fry next attracts our eye with color to codify the differences between editions. These elegant design decisions underscore the central story of Fry's visualization – the evolution of this foundational scientific theory, revealed to us in a matter of moments.

On the Origin of Species: The Preservation of Favoured Traces was originally developed as an interactive visualization. To build the piece, Fry used Processing software, with a data set drawn from Dr. John Van Wyhe's "The Complete Work of Charles Darwin Online" (http://darwin-online.org.uk/). Fry later developed a book and printed poster based on the color-coded scheme of this interactive version.
This object was donated by Ben Fry. It is credited Gift of Ben Fry.
Cite this object as
Interactive Visualization, On the Origin of Species: The Preservation of Favoured Traces; Designed by Ben Fry (American, b. 1975); processing software; Gift of Ben Fry; 2017-11-1-a