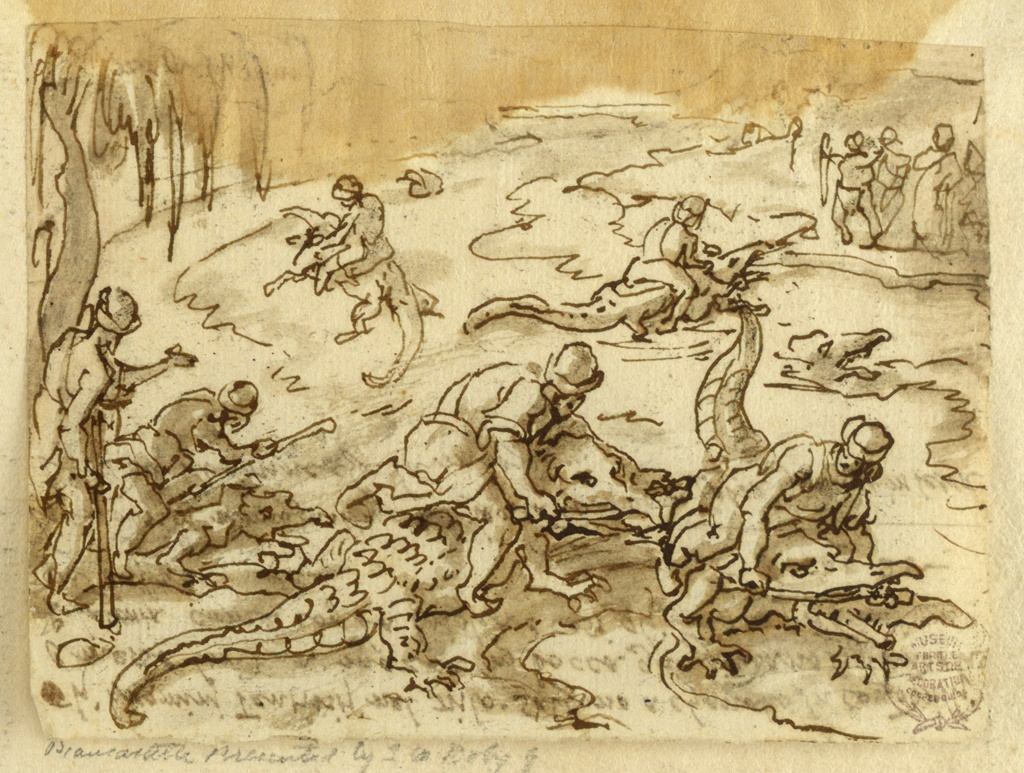 Object Timeline
| | |
| --- | --- |
| 1901 | |
| 2015 | |
| 2019 | |
Drawing, Page of a drawing book; Crocodiles hunted by Tentyritae, ca. 1590
This is a Drawing. It was designed by Jan van der Straet, called Stradanus. It is dated ca. 1590 and we acquired it in 1901. Its medium is charcoal, pen, ink, bistre wash on paper. It is a part of the Drawings, Prints, and Graphic Design department.
It is credited Museum purchase through gift of various donors.
Its dimensions are
10.3 × 13.8 cm (4 1/16 × 5 7/16 in.)
It is inscribed
Gli huomini Tentiriti nel nilo salgano a chavallo su coccodrilli / e messa lor una mazza in bocca gli guidano pigliandola / per la ponta come con la triglia e cosi gli fanno prigionieri del bastone. Plinio L° 8 cap. 25 / Li coccodrilli vanno nuotare nellaqua con lamo da sopra gridano in testa / li ve del huomine che la ma[r?]zzano.
Cite this object as
Drawing, Page of a drawing book; Crocodiles hunted by Tentyritae, ca. 1590; Designed by Jan van der Straet, called Stradanus (Flemish, active Italy, 1523–1605); Netherlands; charcoal, pen, ink, bistre wash on paper; 10.3 × 13.8 cm (4 1/16 × 5 7/16 in.); Museum purchase through gift of various donors; 1901-39-2501