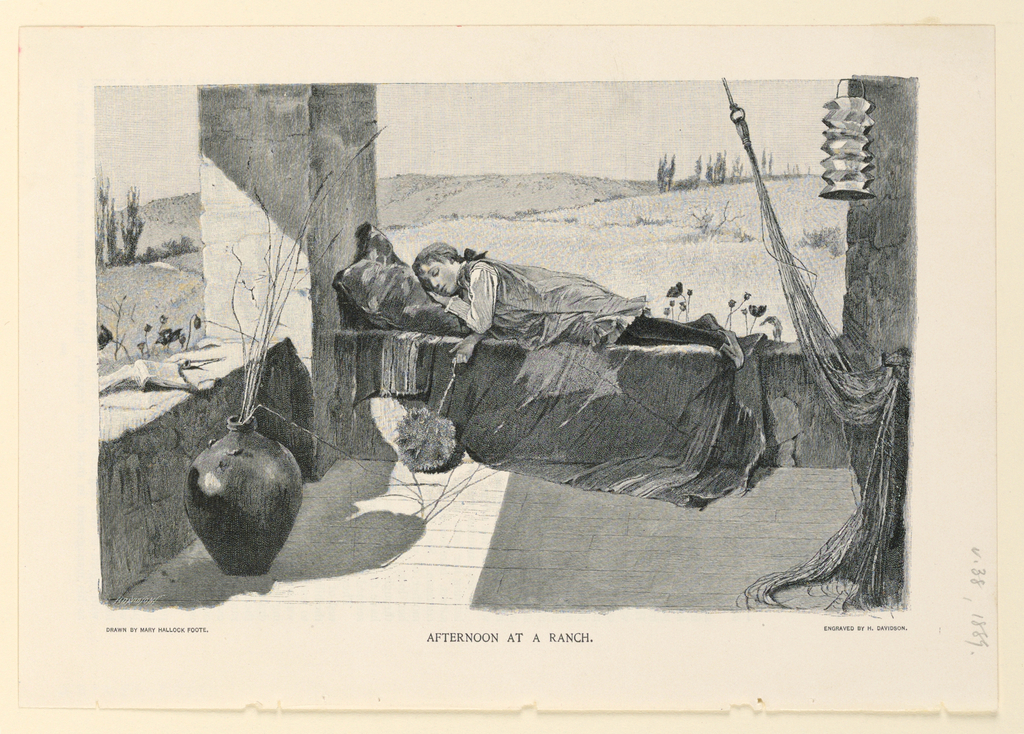 Print, Afternoon at a Ranch, Illustration for Century Magazine (XXVIII, No. 4, August 1889, p. 502)
This is a Print. It was created by Mary A. Hallock Foote and engraved by H. Davidson. It is dated 1889 and we acquired it in 1953. Its medium is wood-engraving in black ink on paper. It is a part of the Drawings, Prints, and Graphic Design department.
This object was donated by E. Maurice Bloch. It is credited Gift of E. Maurice Bloch.
Its dimensions are
Platemark: 13 × 19.5 cm (5 1/8 × 7 11/16 in.) Sheet: 16.6 × 23.8 cm (6 9/16 × 9 3/8 in.)
It is signed
Signed in block, lower left: H. DAVIDSON.
It is inscribed
Inscribed in graphite, lower right: v. 38, 1889.
Cite this object as
Print, Afternoon at a Ranch, Illustration for Century Magazine (XXVIII, No. 4, August 1889, p. 502); Mary A. Hallock Foote (American, 1847 – 1938); Engraved by H. Davidson; USA; wood-engraving in black ink on paper; Platemark: 13 × 19.5 cm (5 1/8 × 7 11/16 in.) Sheet: 16.6 × 23.8 cm (6 9/16 × 9 3/8 in.); Gift of E. Maurice Bloch; 1953-130-3-c