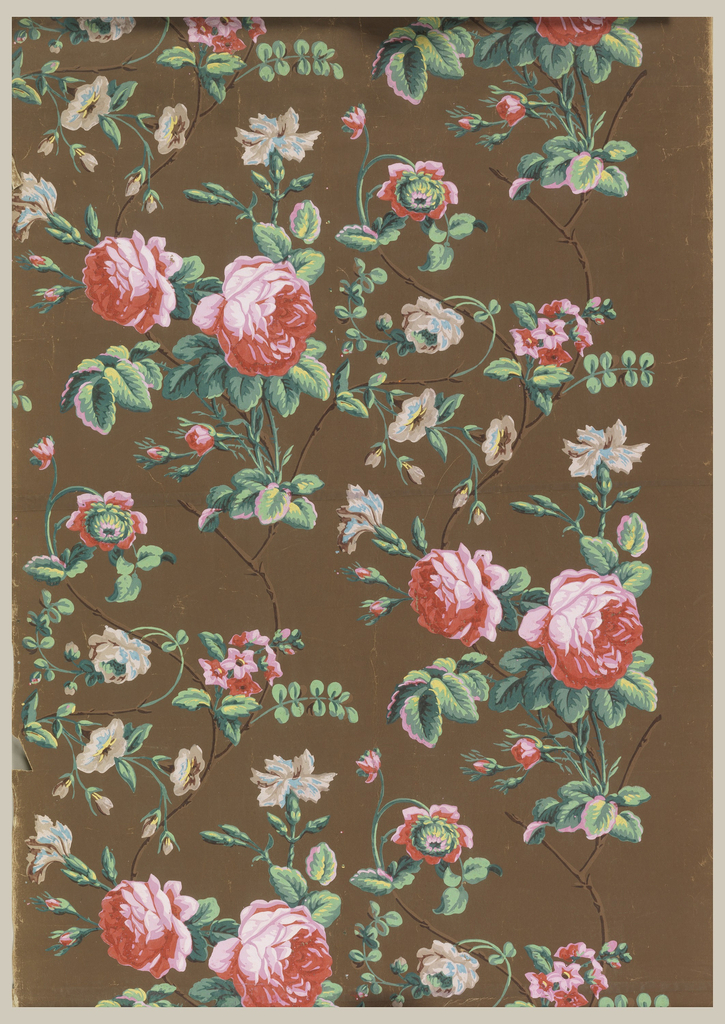 This is a sidewall. It is dated ca. 1800 and we acquired it in 1972. Its medium is block printed on handmade paper. It is a part of the Wallcoverings department.
Early floral design which achieves a great deal of realism with the use of about thirteen woodblocks. Printing the design in a two column format allowed for the use of smaller woodblocks, which necessitated the printing of visible registration marks down the center of the paper. This was not viewed as a design flaw.
This object was featured in our Object of the Week series in a post titled Chocolate & Roses.
This object was donated by Josephine Howell. It is credited Gift of Josephine Howell.
Its dimensions are
H x W (a): 115.5 x 59.5 cm (45 1/2 x 23 7/16 in.) H x W (b): 86 x 59.5 cm (33 7/8 x 23 7/16 in.)
Cite this object as
Sidewall (France); block printed on handmade paper; H x W (a): 115.5 x 59.5 cm (45 1/2 x 23 7/16 in.) H x W (b): 86 x 59.5 cm (33 7/8 x 23 7/16 in.); Gift of Josephine Howell; 1972-42-189-a,b