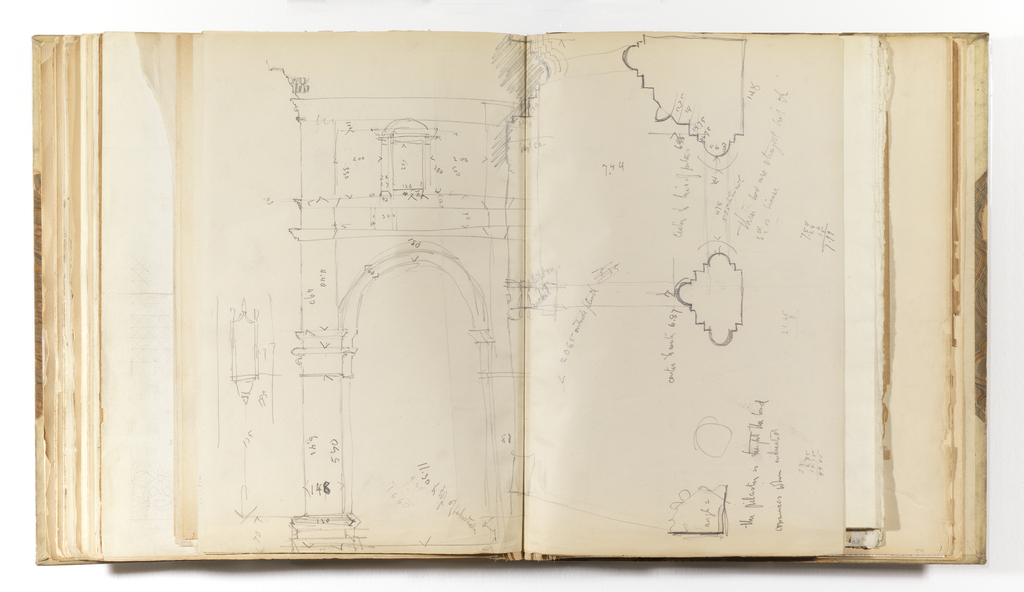 Album Page, Elevation and Plan of Arch, Possibly from the Loggia dei Nobili, Siena, late 19th century
This is a Album page. It was created by Whitney Warren Jr.. It is dated late 19th century and we acquired it in 1943. Its medium is graphite on very smooth, off-white wove paper tipped into binding with fabric. It is a part of the Drawings, Prints, and Graphic Design department.
This object was donated by Mrs. William Greenough. It is credited Gift of Mrs. William Greenough.
Its dimensions are
Sheet: 31.5 x 40 cm (12 3/8 x 15 3/4 in.), folded
It is inscribed
Recto, in graphite, right side of sheet at lower left: the pilaster is straight ... bend / compresses where indicated. Verso of left side of sheet, upper right corner: 110; lower right corner: 100; upper center of sheet: Loggia du [sic] Nobili / Sienna [sic].
Cite this object as
Album Page, Elevation and Plan of Arch, Possibly from the Loggia dei Nobili, Siena, late 19th century; Whitney Warren Jr. (American, 1864–1943); Italy; graphite on very smooth, off-white wove paper tipped into binding with fabric; Sheet: 31.5 x 40 cm (12 3/8 x 15 3/4 in.), folded; Gift of Mrs. William Greenough; 1943-51-275