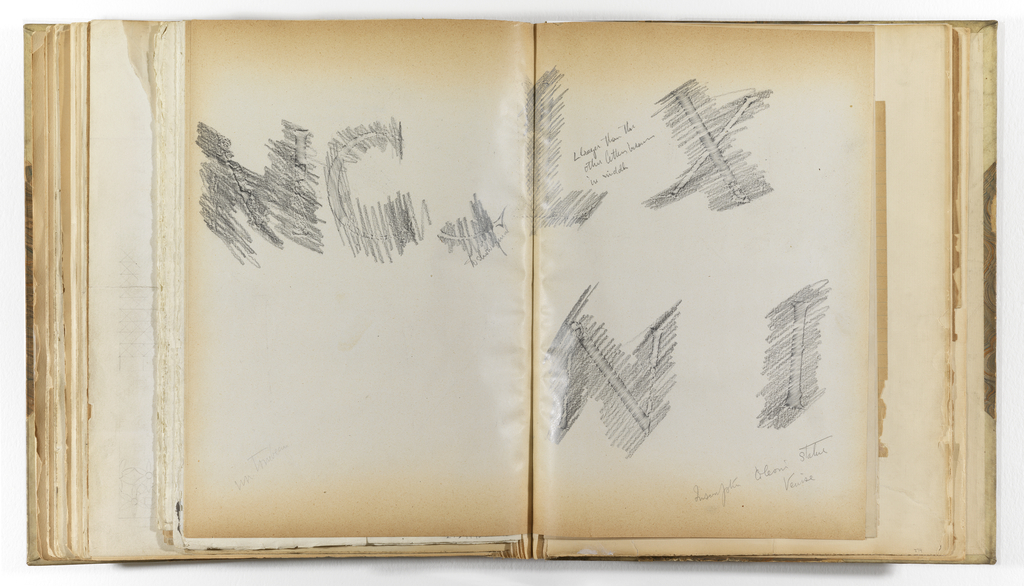 Album Page, Recto: Rubbing of Inscription from Statue of Colleoni, Venice, Italy; Verso: Inscriptions on Front and Back of Colleoni Monument, Venice, Italy, late 19th century
This is a Album page. It was created by Whitney Warren Jr.. It is dated late 19th century and we acquired it in 1943. Its medium is graphite on very smooth, off-white wove paper, folded and tipped into binding with fabric. It is a part of the Drawings, Prints, and Graphic Design department.
This object was donated by Mrs. William Greenough. It is credited Gift of Mrs. William Greenough.
Its dimensions are
Sheet: 30.6 x 41.6 cm (12 1/16 x 16 3/8 in.), irregular
It is inscribed
Recto, in graphite, clockwise from upper left center:to show finial; L larger than the / other letters be. . . / in width; Inscription Coleoni [sic] Statue / Venise [sic]. Verso, in graphite: left column: Front / Bartholomeo / Coleono / Bergomensi / Cebbididare (?) / Imperium / Optime / Gestrum (?) / S. C.. Right column: back / Ioane = Mauro / ct + Marino / Venezio / Curatoribus / ann + sol / MCCCC L XXXXV. Upper right corner: 124; lower right corner: 117; bottom right of sheet: Inscription Coleoni [sic] statue / Venice.
Cite this object as
Album Page, Recto: Rubbing of Inscription from Statue of Colleoni, Venice, Italy; Verso: Inscriptions on Front and Back of Colleoni Monument, Venice, Italy, late 19th century; Whitney Warren Jr. (American, 1864–1943); USA; graphite on very smooth, off-white wove paper, folded and tipped into binding with fabric; Sheet: 30.6 x 41.6 cm (12 1/16 x 16 3/8 in.), irregular; Gift of Mrs. William Greenough; 1943-51-293