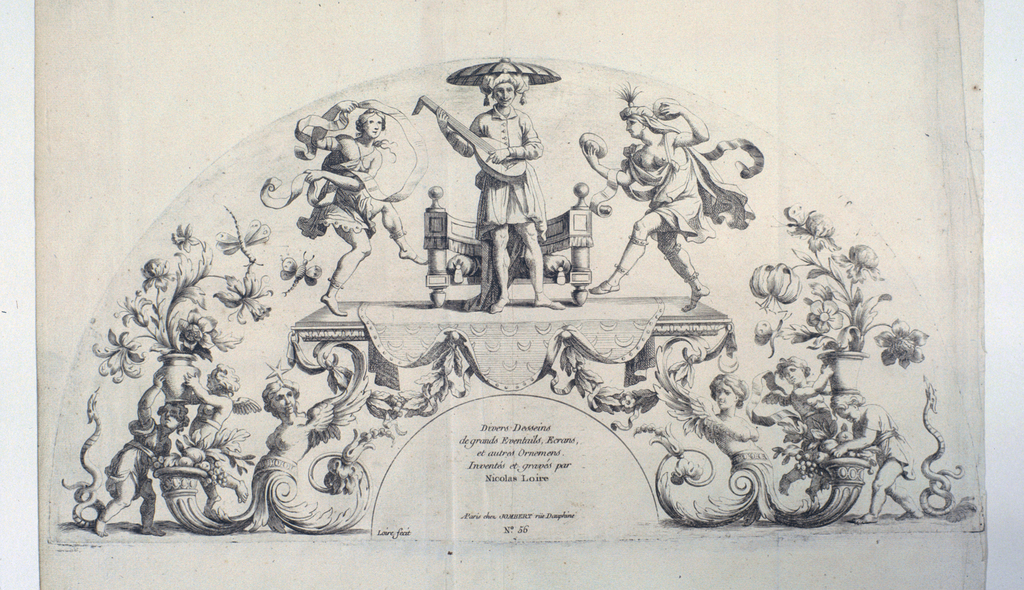 Print, Title plate of "Divers Desseins de grands Eventails, Ecrans, et autres Ornemens", ca. 1670
This is a Print. It was engraved by Alexis Loir and after Nicolas Loir. It is dated ca. 1670 and we acquired it in 1944. Its medium is etching with engraving on white laid paper. It is a part of the Drawings, Prints, and Graphic Design department.
Its dimensions are
Platemark: 22.4 x 43.7 cm (8 13/16 x 17 3/16 in.) Sheet: 35.1 x 44.4 cm (13 13/16 x 17 1/2 in.)
It has the following markings
Watermarks: crown / bunch of grapes / 1742; I (?) E LACOMBE / LIMOTIN FIN Address: "A Paris chez Jombert rue Dauphine / No 56"
It is signed
Bottom left: Loire fecit
Cite this object as
Print, Title plate of "Divers Desseins de grands Eventails, Ecrans, et autres Ornemens", ca. 1670; Engraved by Alexis Loir ; France; etching with engraving on white laid paper; Platemark: 22.4 x 43.7 cm (8 13/16 x 17 3/16 in.) Sheet: 35.1 x 44.4 cm (13 13/16 x 17 1/2 in.); 1944-16-6