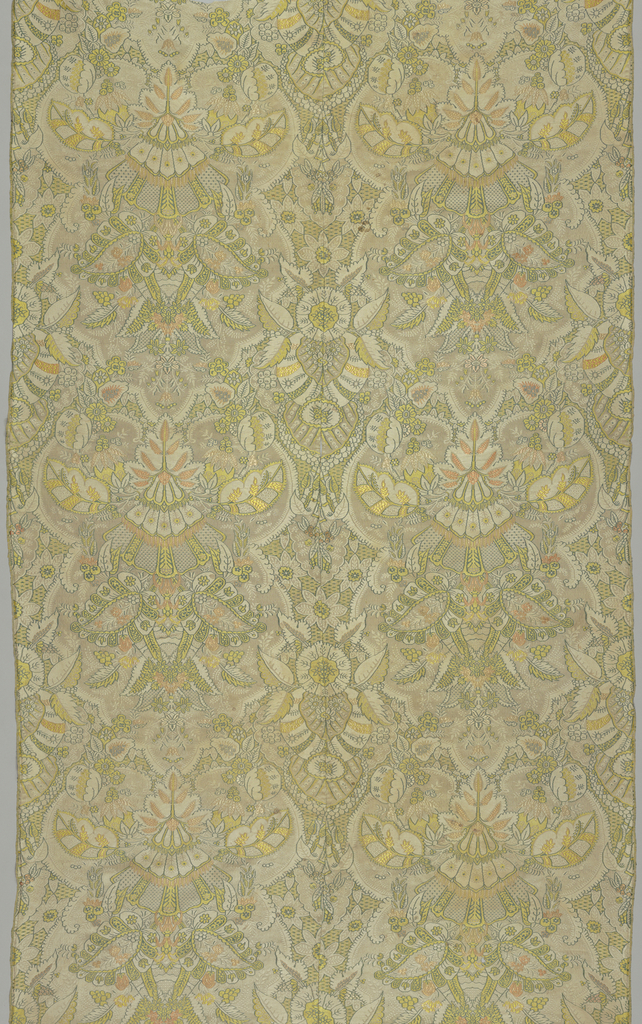 Textile (France), ca. 1730
This is a Textile. It is dated ca. 1730 and we acquired it in 1987. Its medium is silk and its technique is 7&1 satin weave with continuous (green and yellow) and discontinuous (2 reds, yellow and textured blue) supplementary wefts. the continuous wefts are bound into the structure in twill binding; the discontinuous wefts float on the back. It is a part of the Textiles department.
This object was donated by Josephine Howell. It is credited Gift of the Estate of Josephine Howell.
Its dimensions are
Warp x Weft: 182 x 110 cm (5 ft. 11 5/8 in. x 43 5/16 in.) Repeat H: 62.5 x 28 cm (24 5/8 x 11 in.)
Cite this object as
Textile (France), ca. 1730; silk; Warp x Weft: 182 x 110 cm (5 ft. 11 5/8 in. x 43 5/16 in.) Repeat H: 62.5 x 28 cm (24 5/8 x 11 in.); Gift of the Estate of Josephine Howell; 1987-85-2