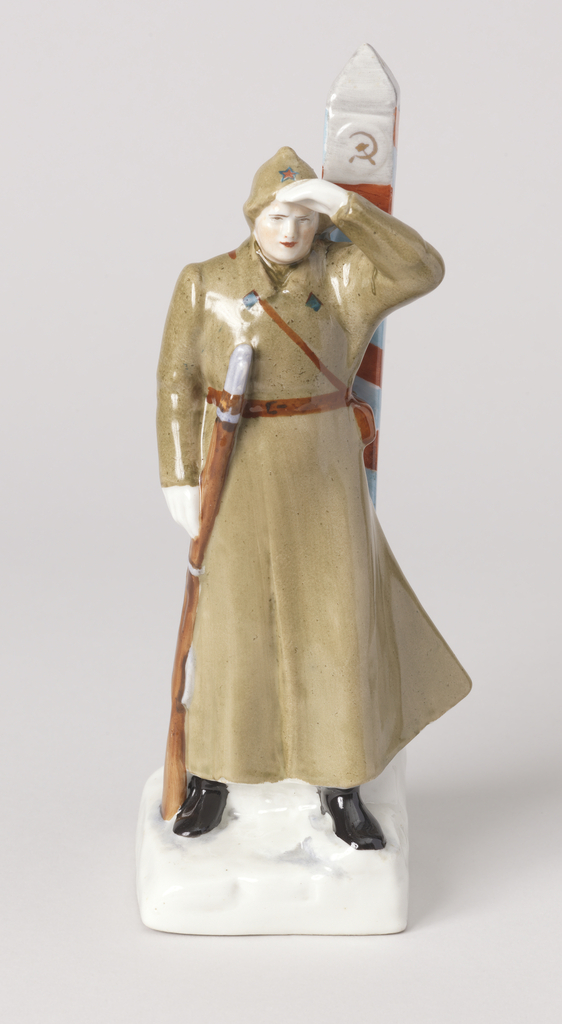 Red Army Border Guard Figure, 1937
This is a figure. It was manufactured by Lomonosov Porcelain Factory. It is dated 1937 and we acquired it in 1989. Its medium is porcelain, enamel. It is a part of the Product Design and Decorative Arts department.
It is credited The Henry and Ludmilla Shapiro Collection; Partial gift and partial purchase through the Decorative Arts Association Acquisition and Smithsonian Collections Acquisition Program Funds.
Its dimensions are
23.6 cm (9 5/16 in.)
It has the following markings
underside: Lomonosov mark for 1937 stamped in orange
Cite this object as
Red Army Border Guard Figure, 1937; Manufactured by Lomonosov Porcelain Factory (Russia); porcelain, enamel; 23.6 cm (9 5/16 in.); The Henry and Ludmilla Shapiro Collection; Partial gift and partial purchase through the Decorative Arts Association Acquisition and Smithsonian Collections Acquisition Program Funds; 1989-41-167