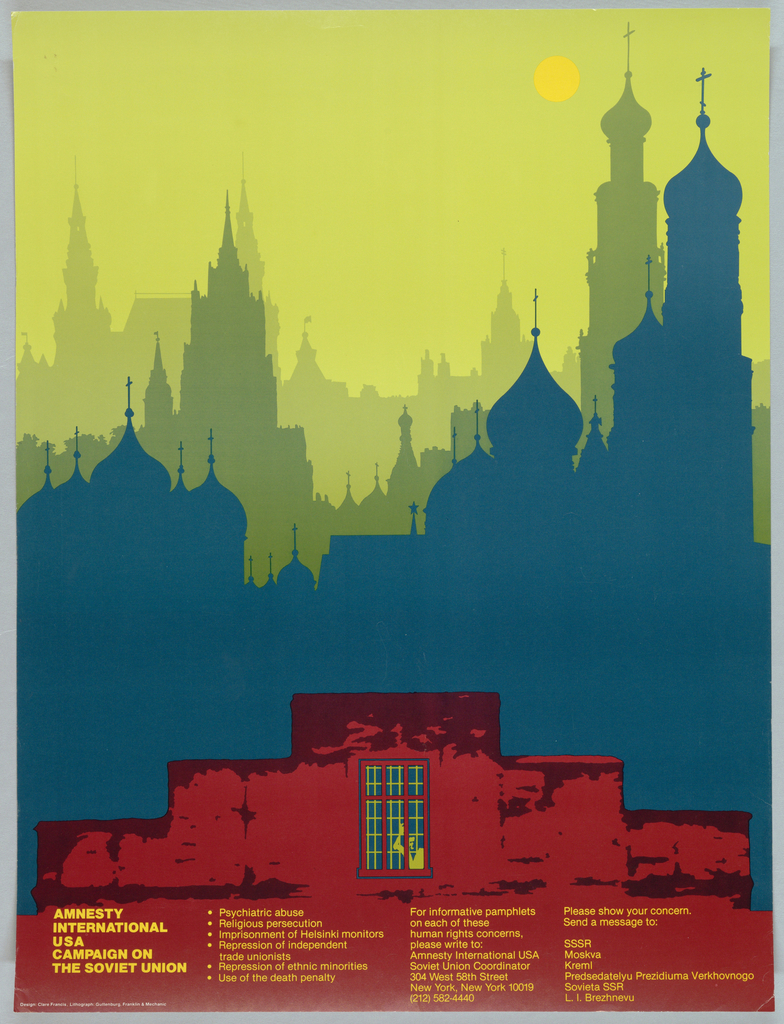 Object Timeline
| | |
| --- | --- |
| 1970 | Work on this object began. |
| 1990 | Work on this object ended. |
| 1993 | |
| 2015 | |
| 2020 | |
Poster, Amnesty International USA Campaign on the Soviet Union, ca. 1980
This is a Poster. It was designed by Clare Francis and lithographer: Guttenburg, Franklin & Mechanic and published by Amnesty International. It is dated ca. 1980 and we acquired it in 1993. Its medium is lithograph on paper. It is a part of the Drawings, Prints, and Graphic Design department.
It is credited Gift of Steven Heller and Karrie Jacobs.
Its dimensions are
61.1 × 45.9 cm (24 1/16 × 18 1/16 in.)
It is inscribed
Text: "Psychiatric abuse / Religious persecution /... [10 lines of text]...Please show your concern./ Send a message to:/SSSR / Moskva /... L.I. Brezhnevu"
Cite this object as
Poster, Amnesty International USA Campaign on the Soviet Union, ca. 1980; Designed by Clare Francis ; USA; lithograph on paper; 61.1 × 45.9 cm (24 1/16 × 18 1/16 in.); Gift of Steven Heller and Karrie Jacobs; 1993-53-63