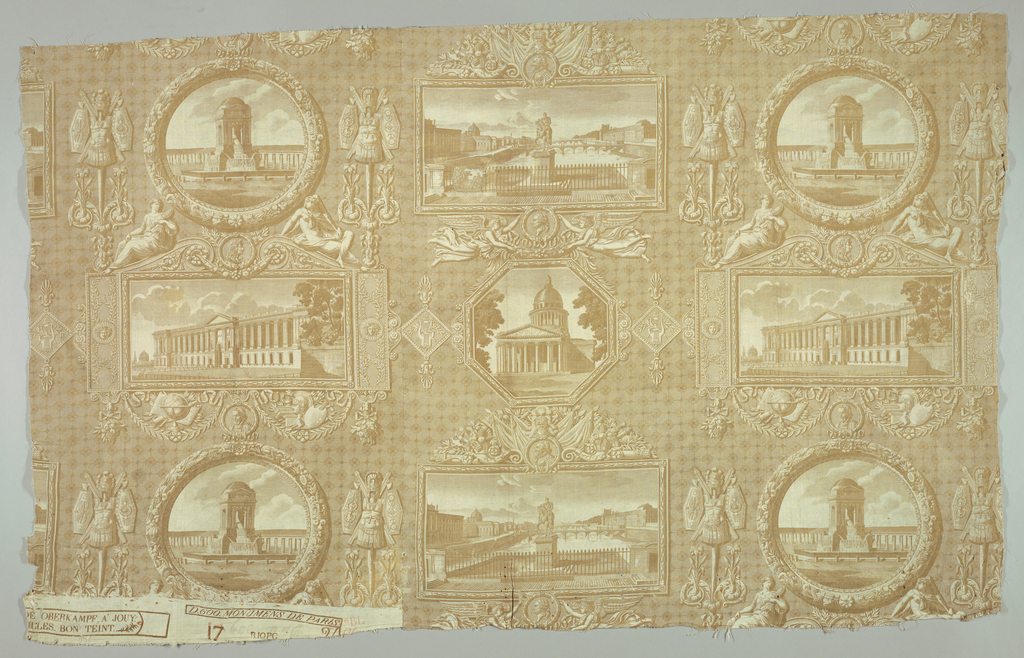 Chef De Piece, Monuments de Paris, ca. 1815
This is a Chef de piece. It was designed by Hippolyte Le Bas and engraved by Leisner and manufactured by Oberkampf & Cie.. It is dated ca. 1815 and we acquired it in 1994. Its medium is cotton and its technique is printed by engraved roller on plain weave. It is a part of the Textiles department.
This object was donated by Cora Ginsburg and catalogued by Gillian Moss. It is credited Gift of Cora Ginsburg.
Its dimensions are
Warp x Weft: 84 x 132 cm (33 1/16 x 51 15/16 in.) Repeat H: 52 cm (20 1/2 in.)
It is inscribed
Stamp at the end of one length bearing half of the Oberkampf factory mark in use from 1792 to 1815. Also in brown: D600 Monumens de Paris (within box), 17, BIOPG, 24. In red: 24(6)BL and DL. Handwritten in ink (very faded): 600 DNG.
Cite this object as
Chef De Piece, Monuments de Paris, ca. 1815; Designed by Hippolyte Le Bas (1782 – 1867); France; cotton; Warp x Weft: 84 x 132 cm (33 1/16 x 51 15/16 in.) Repeat H: 52 cm (20 1/2 in.); Gift of Cora Ginsburg; 1994-80-3