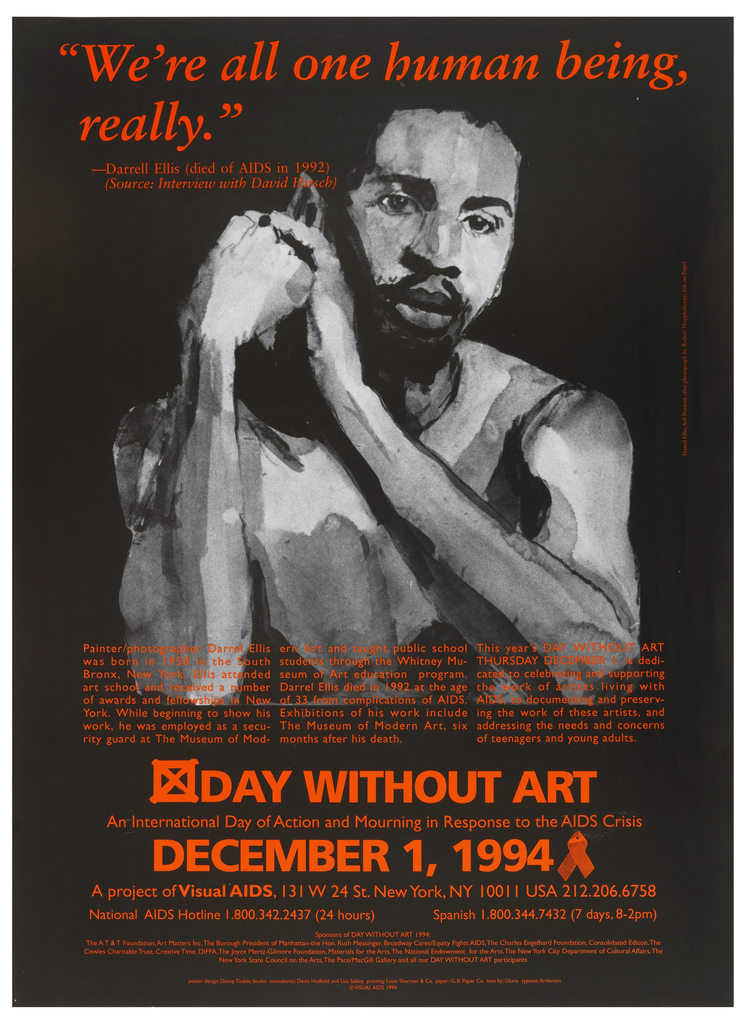 Object Timeline
| | |
| --- | --- |
| 1994 | Work on this object began. |
| 1995 | |
| 2013 | |
| 2016 | |
| 2022 | |
This is a Poster. It was made for (as the client) Visual AIDS. It is dated 1994 and we acquired it in 1995. Its medium is offset lithograph on paper. It is a part of the Drawings, Prints, and Graphic Design department.
This object was donated by Unknown donor: found in Collection. It is credited Gift of Unknown Donor.
Its dimensions are
88.9 x 65.1 cm (35 x 25 5/8 in. )
It is signed
Imprinted vertically in red, right edge: Darrel Ellis, Self Protrait after photograph by Robert Mapplethorpe, Ink on Paper Imprinted in red, along bottom edge: "Danny Tisdale Studio consultations: Denis Hadfield and Lisa Salkey printing: Louis Sherman & Co. paper: G.B. Paper Co. text by Gloria typeset: Artforum/ ©VISUAL AIDS 1994."
It is inscribed
Imprinted in red, below image in three columns: "Painter/photographer Darrel Ellis/ was born in 1958 in the South/ Bronx, New York. Ellis attended/ art school and recieved a number/ of awards and fellowships in New/ York. While beginning to show his/ work, he was employed as a secu-/rity guard at The Museum of Mod- (first column)/ ern Art and taught public school/ students through the Whitney Mu-/seum of Art education program./ Darrel Ellis died in 1992 at the age/ of 33 from complications of AIDS./ Exhibitions of his work include/ The Museum of Modern Art, six/ months after his death (second column)/ This year's DAY WITHOUT ART/ THRUSDAY DECEMBER 1, is dedi-/ cated to celebrating and supporting/ the work of artists living with/ AIDS, to documenting and preserv-/ing the work of these artists, and/ adressing the needs and concerns/ of teenagers and young adults."(third column) Imprinted in red, below biography: "DAY WITHOUT ART/ An International Day of Action and Mourning in Response to the AIDS crisis/ DECEMBER 1, 1994/ A project of Visual AIDS, 131 W24 St. New York, NY 10011 USA 212.206.6758/ National AIDS Hotline 1.800.342.2437 (24 hours) Spanish 1.800.344.7432 (7 days, 8 - 2 pm)/ Sponsors of DAY WITHOUT ART 1994:/ The AT&T Foundation, Art Matters Inc, The Borough President of Manhattan-the Hon. Ruth Messinger, Broadway Cares/ Equity Fight AIDS, The Charles Engelhard Foundation/ Consolidated Edison, The/ Coules Charitable Trust, Creative Time, DIFFA, The Joyce Mertz-Gilmore Foundation, Materials for the Arts, The National Endowment for the Arts, The New York City Department of Cultural Affairs, The/ New York State Council on the Arts, The Pace/MacGil Gallery and all out DAY WITHOUT ART participants."
Cite this object as
Poster, Day without Art; Client: Visual AIDS; USA; offset lithograph on paper; 88.9 x 65.1 cm (35 x 25 5/8 in. ); Gift of Unknown Donor; 1995-78-3