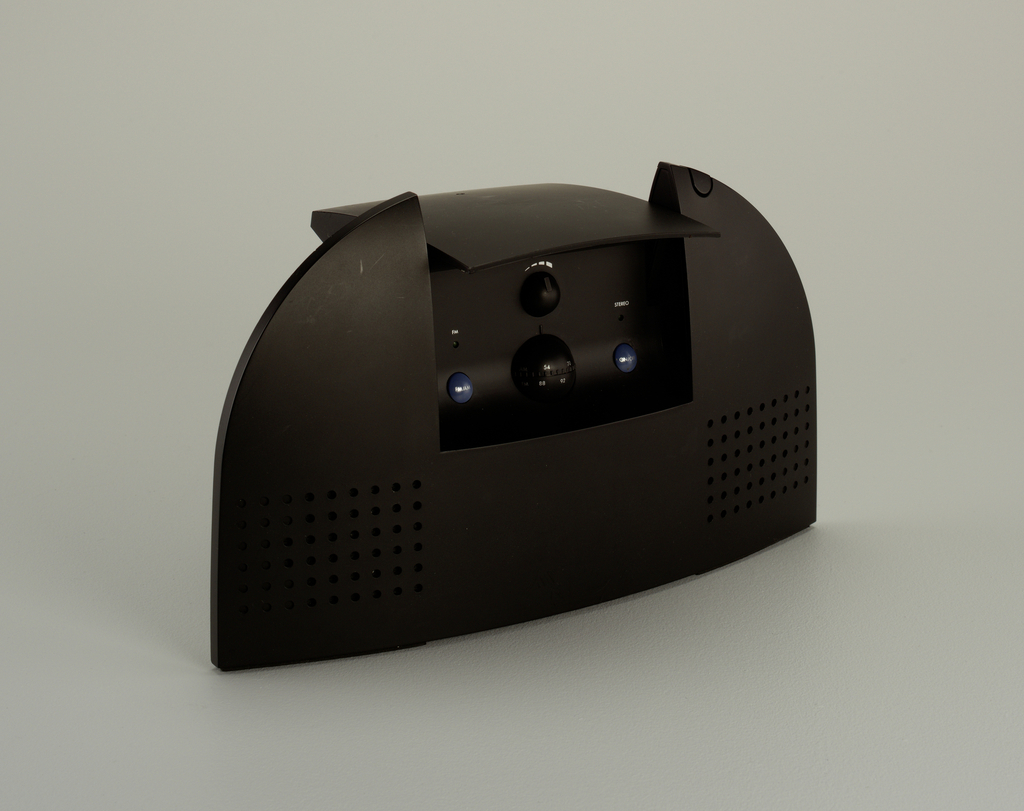 Object Timeline
| | |
| --- | --- |
| 1985 | Work on this object began. |
| 1990 | Work on this object ended. |
| 2008 | |
| 2009 | |
| 2015 | |
| 2017 | |
| 2023 | |
This is a radio. It is dated 1985–90 and we acquired it in 2008. Its medium is molded plastic, metal. It is a part of the Product Design and Decorative Arts department.
This arc-shaped radio, with a central rectangular panel that flips back to reveal control buttons, is aesthetically pleasing and speak to an interest in materials and use of geometric forms popular in the mid-1980s.
The museum actively collects in the area of personal electronic devices. This radio is part of a group of electronics from the 1980s and 1990s proposed for acquisition that would augment the collection's consumer product design category from this era.
This object was donated by Max Pine. It is credited Gift of Max Pine and Lois Mander.
Our curators have highlighted 1 object that are related to this one.
Its dimensions are
H x W x D: 16 × 26 × 11 cm (6 5/16 × 10 1/4 × 4 5/16 in.) H x W x D: 18 × 26 × 5.5 cm (7 1/16 × 10 1/4 × 2 3/16 in.)
Cite this object as
Arco Radio; molded plastic, metal; H x W x D: 16 × 26 × 11 cm (6 5/16 × 10 1/4 × 4 5/16 in.) H x W x D: 18 × 26 × 5.5 cm (7 1/16 × 10 1/4 × 2 3/16 in.); Gift of Max Pine and Lois Mander; 2008-9-3