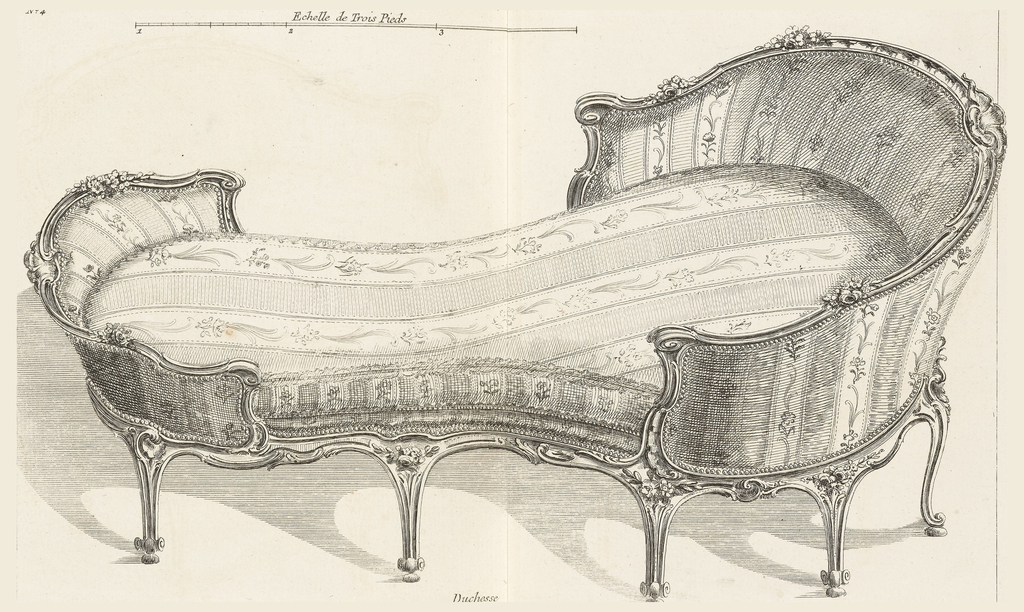 Print, Duchesse (No. 4), from Recueil de différents Muebles garniers Comme Fauteuils (Liard's "Suites"), 1762
This is a Print. It was designed by Matthew Liard. It is dated 1762 and we acquired it in 1921. Its medium is etching on cream laid paper. It is a part of the Drawings, Prints, and Graphic Design department.
This object was donated by Advisory Council and catalogued by Karin Zonis. It is credited Purchased for the Museum by the Advisory Council.
Its dimensions are
Sheet: 30.6 x 44 cm (12 1/16 x 17 5/16 in.) Platemark: 19.8 x 32.4 cm (7 13/16 x 12 3/4 in.)
It is inscribed
Inscribed in plate, upper right: No. 4; upper center: Echelle de Trois Pieds [scale]; lower center: Duchesse; in graphite, lower right margin: 20
Cite this object as
Print, Duchesse (No. 4), from Recueil de différents Muebles garniers Comme Fauteuils (Liard's "Suites"), 1762; Designed by Matthew Liard (English, ca. 1736–1782); England; etching on cream laid paper; Sheet: 30.6 x 44 cm (12 1/16 x 17 5/16 in.) Platemark: 19.8 x 32.4 cm (7 13/16 x 12 3/4 in.); Purchased for the Museum by the Advisory Council; 1921-6-345-20