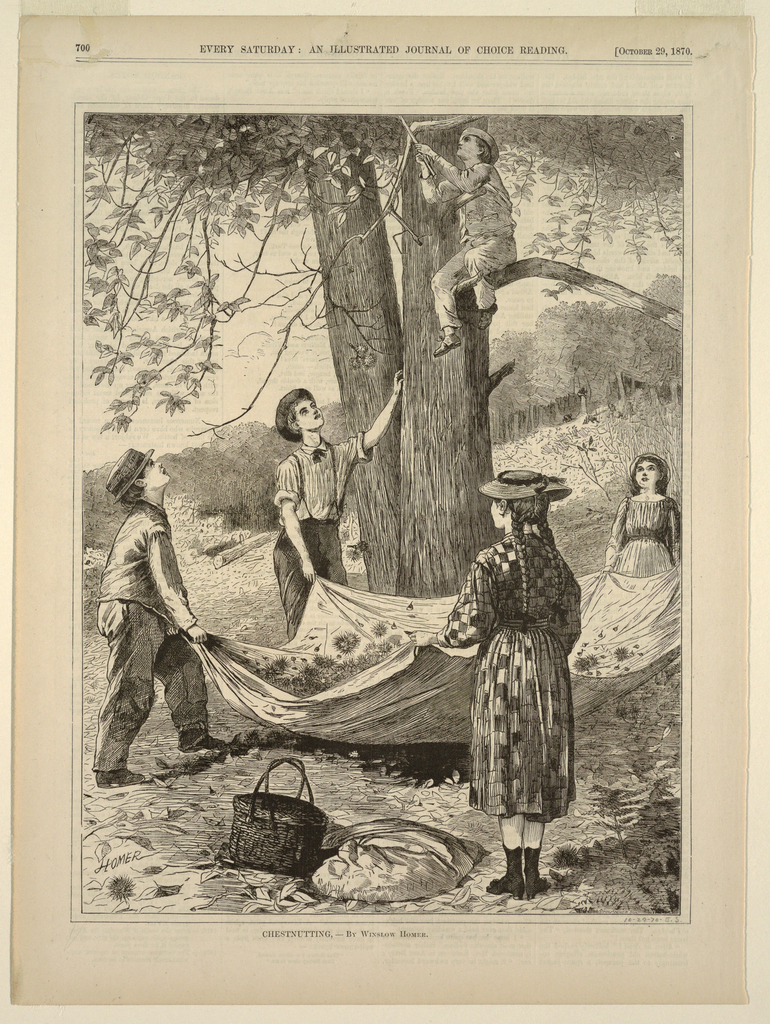 Object Timeline
| | |
| --- | --- |
| 1936 | |
| 2015 | |
| 2023 | |
Graphic Design, Chestnutting
This is a Graphic design. It was after Winslow Homer and engraved by John Andrew. It is dated September 29, 1870 and we acquired it in 1936. Its medium is wood engraving printed in black ink on paper. It is a part of the Drawings, Prints, and Graphic Design department.
This object was donated by Edith Wetmore. It is credited Gift of Edith Wetmore.
Its dimensions are
Sheet: 37 × 27.5 cm (14 9/16 × 10 13/16 in.)
It is signed
Signed on block, lower left: HOMER Signed on block, lower right: JOHN ANDREW - SON.
It is inscribed
Caption: CHESTNUTTING, - BY WINSLOW HOMER.
Cite this object as
Graphic Design, Chestnutting; After Winslow Homer (American, 1836–1910); Engraved by John Andrew; USA; wood engraving printed in black ink on paper; Sheet: 37 × 27.5 cm (14 9/16 × 10 13/16 in.); Gift of Edith Wetmore; 1936-30-6