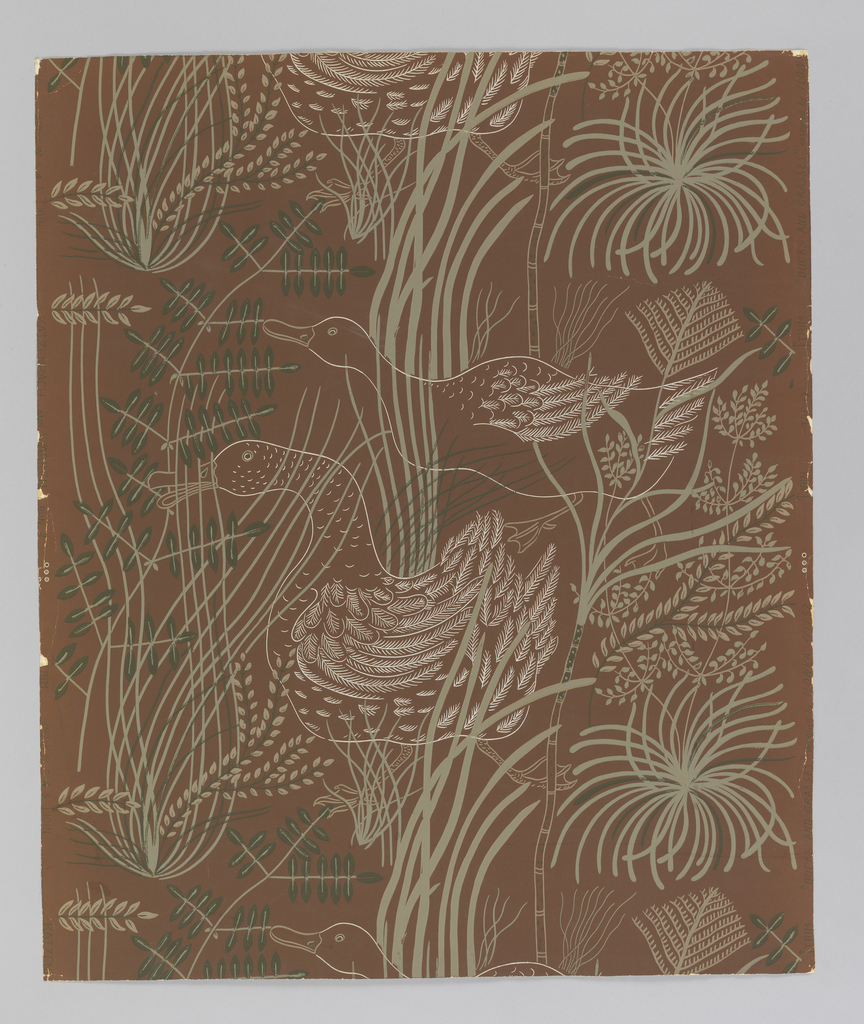 Sidewall, Ducks and Grasses, 1948
This is a Sidewall. It was designed by Ilonka Karasz and made by Katzenbach and Warren, Inc.. It is dated 1948 and we acquired it in 1951. Its medium is screen printed on paper. It is a part of the Wallcoverings department.
One of Karasz's earlier repeating patterns, Ducks and Grasses displays a creative use of positive and negative space. The ducks are rendered as outlines and assume the background coloring, while the use of grasses in front and behind the ducks suggests depth.
This object was donated by Katzenbach and Warren, Inc. and catalogued by Dr. Haus Huth. It is credited Gift of Katzenbach and Warren, Inc..
Our curators have highlighted 3 objects that are related to this one.
Its dimensions are
H x W (a): 85.5 x 76 cm (33 11/16 x 29 15/16 in.) H x W (b): 70 x 76 cm (27 9/16 x 29 15/16 in.) H x W (c): 85.5 x 76 cm (33 11/16 x 29 15/16 in.)
Cite this object as
Sidewall, Ducks and Grasses, 1948; Designed by Ilonka Karasz (American, b. Hungary, 1896–1981); USA; screen printed on paper; H x W (a): 85.5 x 76 cm (33 11/16 x 29 15/16 in.) H x W (b): 70 x 76 cm (27 9/16 x 29 15/16 in.) H x W (c): 85.5 x 76 cm (33 11/16 x 29 15/16 in.); Gift of Katzenbach and Warren, Inc.; 1951-2-1-a/c