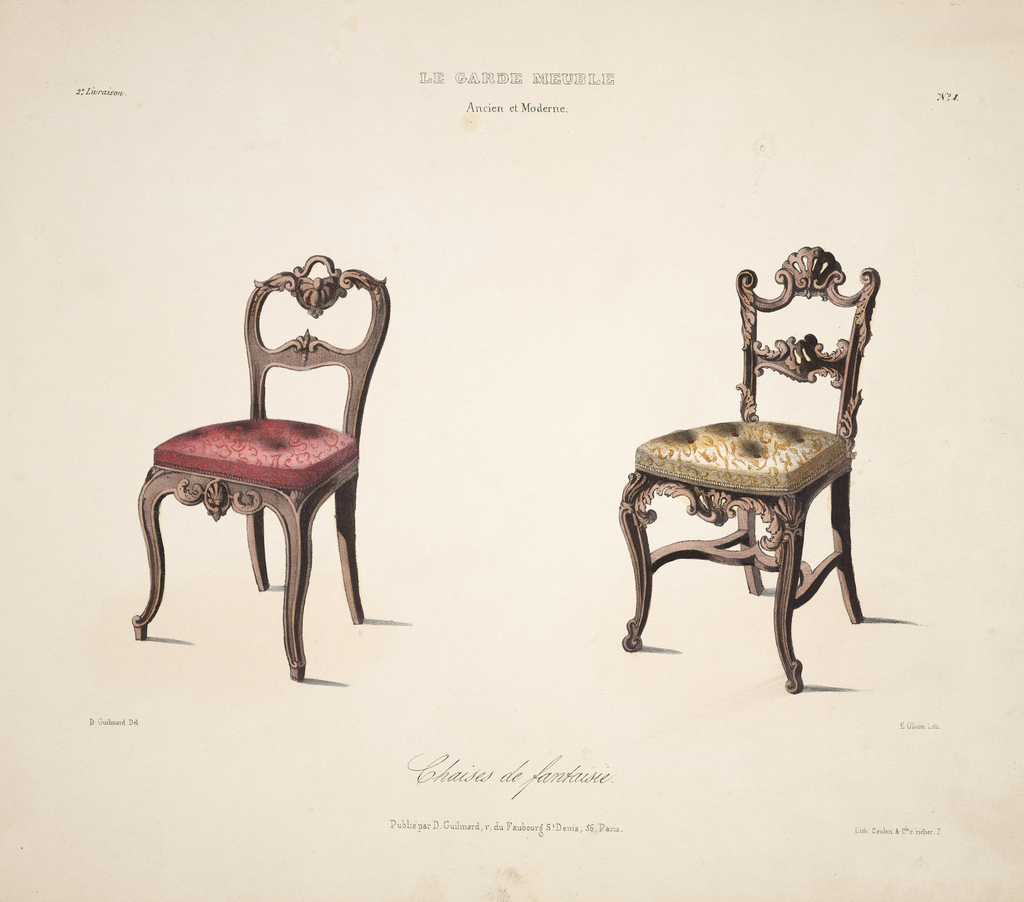 Object Timeline
| | |
| --- | --- |
| -0001 | |
| 1984 | |
| 2022 | |
Album Page, "Chaises de fantaisie," no. 8, in Le Garde-Meuble (The Storehouse)
This is a Album page. It was designed by Désiré Guilmard and lithographer: E. Olhon and Coulon & Cie. and published by Désiré Guilmard. It is dated 1839–85 and we acquired it in 1984. Its medium is hand-colored lithograph on cream laid paper. It is a part of the Drawings, Prints, and Graphic Design department.
Its dimensions are
25.9 x 34 cm (10 3/16 x 13 3/8 in.)
It is signed
Signed in plate, lower left: D. Guilmard Del.; lower right: E. Olhon Lith.
It is inscribed
Inscribed in plate, upper center: LE GARDE MEUBLE / Ancien et Moderne.; upper left: 2e. Livraison; upper right: No. 8.; lower center: Chaises de fantaisie.; lower center margin: Publié par D. Guilmard, r, du Faubourg St. Denis, 56, Paris.; lower right margin: Lith: Coulon & Cie. r. richer, 7.
Cite this object as
Album Page, "Chaises de fantaisie," no. 8, in Le Garde-Meuble (The Storehouse); Designed by Désiré Guilmard (French, 1810–1885); France; hand-colored lithograph on cream laid paper; 25.9 x 34 cm (10 3/16 x 13 3/8 in.); 1984-124-23-8