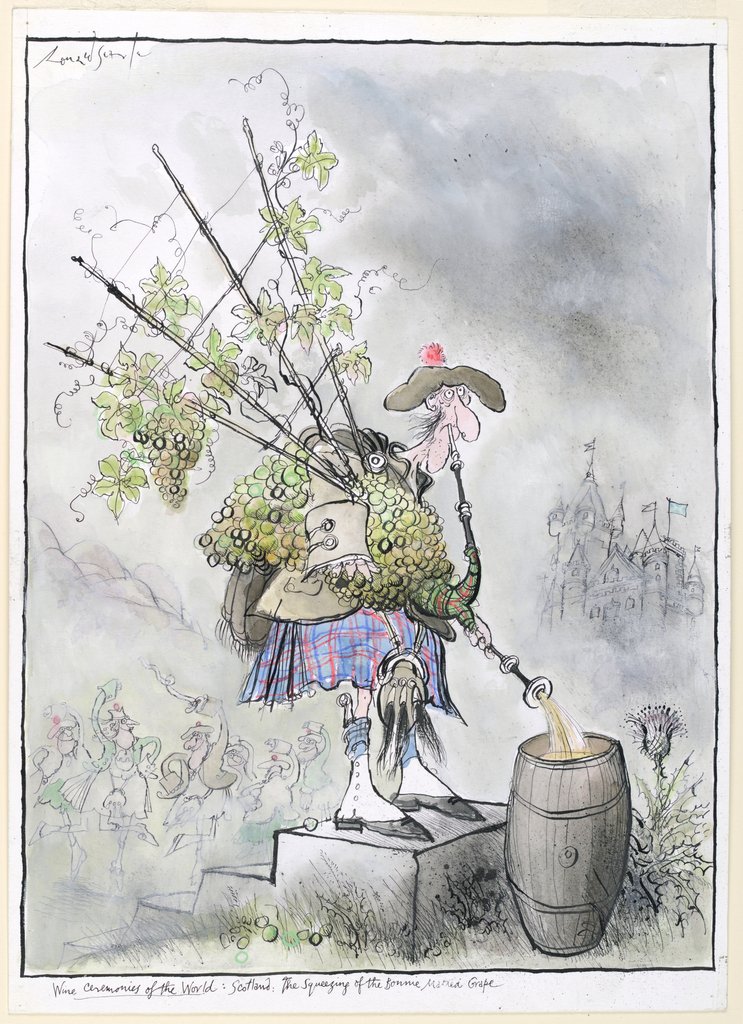 Object Timeline
| | |
| --- | --- |
| 1980 | Work on this object began. |
| 1984 | |
| 2015 | |
| 2022 | |
Drawing, Wine Ceremonies of the World: Scotland: The Squeezing of the Bonnie Malted Grape
This is a Drawing. It was created by Ronald Searle and published by Clos du Val Wine Company, Limited. It is dated 1980 and we acquired it in 1984. Its medium is pen and black ink, watercolor and opaque watercolor with brush, crayon on heavy wove paper. It is a part of the Drawings, Prints, and Graphic Design department.
This object was donated by John Goelet. It is credited Gift of John Goelet.
Its dimensions are
45 × 32.4 cm (17 11/16 × 12 3/4 in.)
It has the following markings
Stamped in blue ink on verso: Ronald Searle/JOHN LOCKE STUDIO/15 EAST 76th STREET/NEW YORK CITY, 10021/U.S.A. Butterfield 8-8010/DRAWING/DESSIN/ZEICHUNG/COPYRIGHT © Ronald Searle 1980
It is signed
Signed in pen and black ink at upper left: Ronald Searle
It is inscribed
Inscribed in pen and black ink across lower margin: Wine Ceremonies of the World: Scotland: The Squeezing of the Bonnie Malted Grape.
Cite this object as
Drawing, Wine Ceremonies of the World: Scotland: The Squeezing of the Bonnie Malted Grape; Ronald Searle (British, active France, 1920 - 2011); pen and black ink, watercolor and opaque watercolor with brush, crayon on heavy wove paper; 45 × 32.4 cm (17 11/16 × 12 3/4 in.); Gift of John Goelet; 1984-93-7