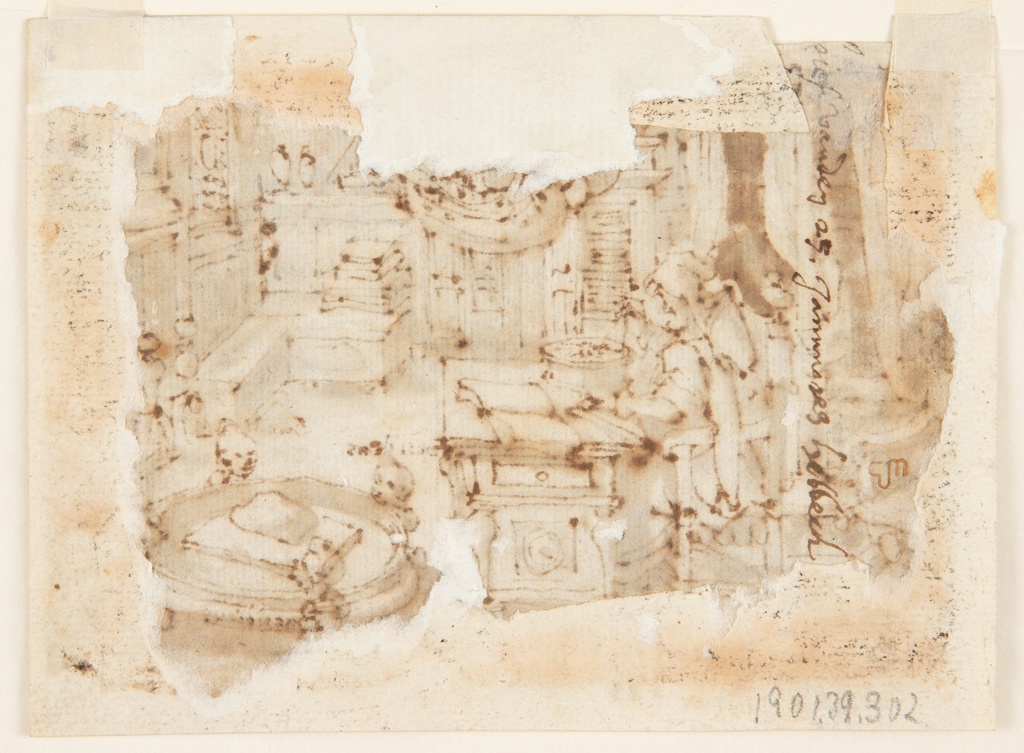 Drawing, Invention of the Compass, preliminary design for "Lapis Polaris Magnes," plate 2 in the Nova Reperta (New Inventions of Modern Times) print series
This is a drawing. It was created by Jan van der Straet, called Stradanus and engraved by Theodor Galle and made for (as the client) Luigi Alamanni. It is dated ca. 1590 and we acquired it in 1901. Its medium is pen and brown ink, brush and brown wash, black chalk on paper. It is a part of the Drawings, Prints, and Graphic Design department.
It is credited Museum purchase through gift of various donors.
Its dimensions are
10.7 × 14.6 cm (4 3/16 × 5 3/4 in.)
It is inscribed
Recto, foreground right: ocsidens/ tramontane / levanus / meridiens Verso, in Stradanus' hand: " brief vanden 25 jannuare 3 hebben "
Cite this object as
Drawing, Invention of the Compass, preliminary design for "Lapis Polaris Magnes," plate 2 in the Nova Reperta (New Inventions of Modern Times) print series; Jan van der Straet, called Stradanus (Flemish, 1523–1605); Netherlands; pen and brown ink, brush and brown wash, black chalk on paper; 10.7 × 14.6 cm (4 3/16 × 5 3/4 in.); Museum purchase through gift of various donors; 1901-39-302