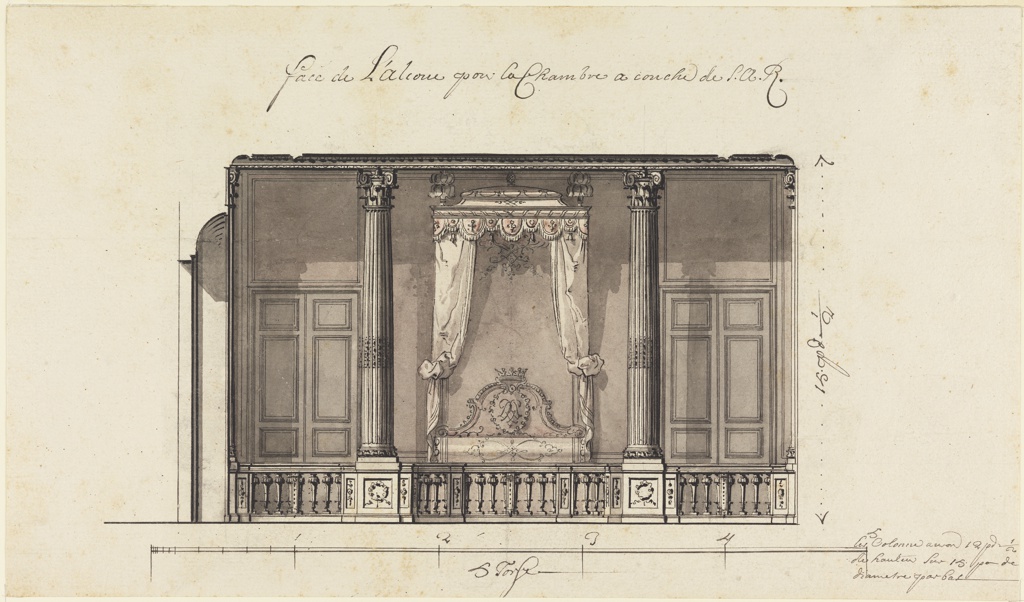 Drawing, Bed Alcove for the Duc d'Orléans, Palais Royal, Paris, France
This is a drawing. It was designed by Gilles-Marie Oppenord. It is dated ca. 1716 and we acquired it in 1911. Its medium is pen and black ink, brush and watercolor on white laid paper. It is a part of the Drawings, Prints, and Graphic Design department.
A state bed with the cypher of the French Regent Philippe Charles, Duc d'Orleans is seen in front elevation in this architectural scheme for the Palais Royal in Paris. In the early years of the regency (1715-23), following the death of Louis XIV, the center of French politics shifted from Versailles to Paris. The regent sought to assert his authority by remodeling his Parisian residence. The architect Gilles-Marie Oppenord was given the task of redesigning large portions of the palace, including the regent's private and state apartments. This meticulous ink drawing shows a scheme for the bed alcove in the regent's bedroom. Set behind a balustrade and flanked by composite columns, the design recalls the late king's state bedroom at Versailles. By appropriating this symbol of absolute power and evoking the grand Italianate style of Louis XIV, the duke sought to stress dynastic continuity. The room was demolished in 1748 to make way for the building of the Comédie Française theatre.
This object was donated by Advisory Council. It is credited Purchased for the Museum by the Advisory Council.
Our curators have highlighted 2 objects that are related to this one.
Its dimensions are
21.2 x 36 cm (8 3/8 x 14 3/16 in.)
It is inscribed
Inscribed in pen and black ink, upper margin: Face de L'alcove pour la chambre a coucher de S.A.R. Lower margin, the scale is inscribed: 5 toises; followed by: les Colonnes auron 12 pd 1/2/ de hauteur sur 15 pou (ce) de / diametre par bas
Cite this object as
Drawing, Bed Alcove for the Duc d'Orléans, Palais Royal, Paris, France; Designed by Gilles-Marie Oppenord (French, 1672–1742); France; pen and black ink, brush and watercolor on white laid paper; 21.2 x 36 cm (8 3/8 x 14 3/16 in.); Purchased for the Museum by the Advisory Council; 1911-28-81