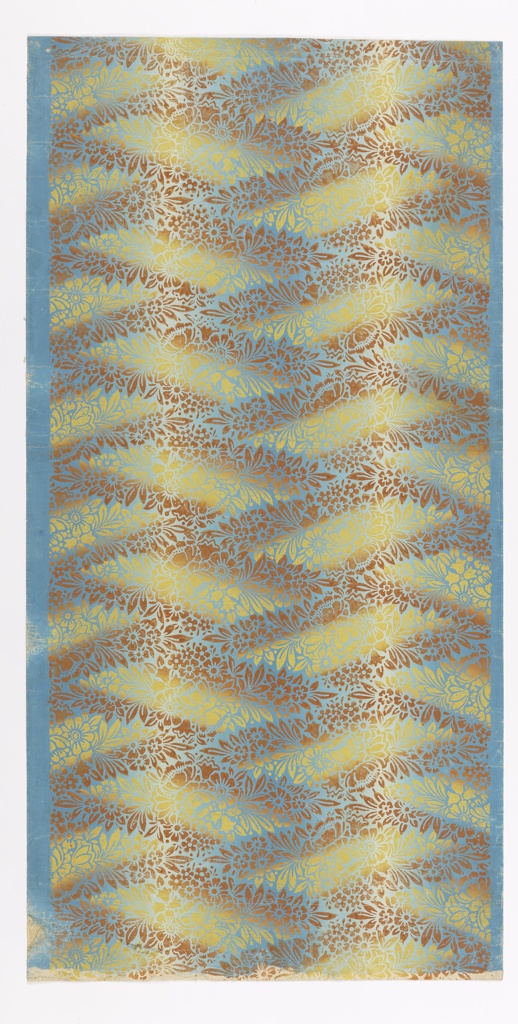 This is a sidewall. It was manufactured by J. C. Arnold. It is dated 1820 and we acquired it in 1955. Its medium is block printed on handmade paper. It is a part of the Wallcoverings department.
Irisé or rainbow papers were popular from 1819 into the 1830s. The stripes of subtly blended colors were intended to mimic the reflective effects of silk wallcoverings. The colors include chrome yellow, a mineral pigment first published in 1809, but not widely available until about 1820.
This object was donated by Deutsches Tapetenmuseum. It is credited Gift of Deutsches Tapetenmuseum.
Our curators have highlighted 4 objects that are related to this one. Here are three of them, selected at random:
Its dimensions are
H x W: 101 x 51 cm (39 3/4 x 20 1/16 in.)
Cite this object as
Sidewall (Germany); Manufactured by J. C. Arnold (Kassel, Germany); block printed on handmade paper; H x W: 101 x 51 cm (39 3/4 x 20 1/16 in.); Gift of Deutsches Tapetenmuseum; 1955-51-7