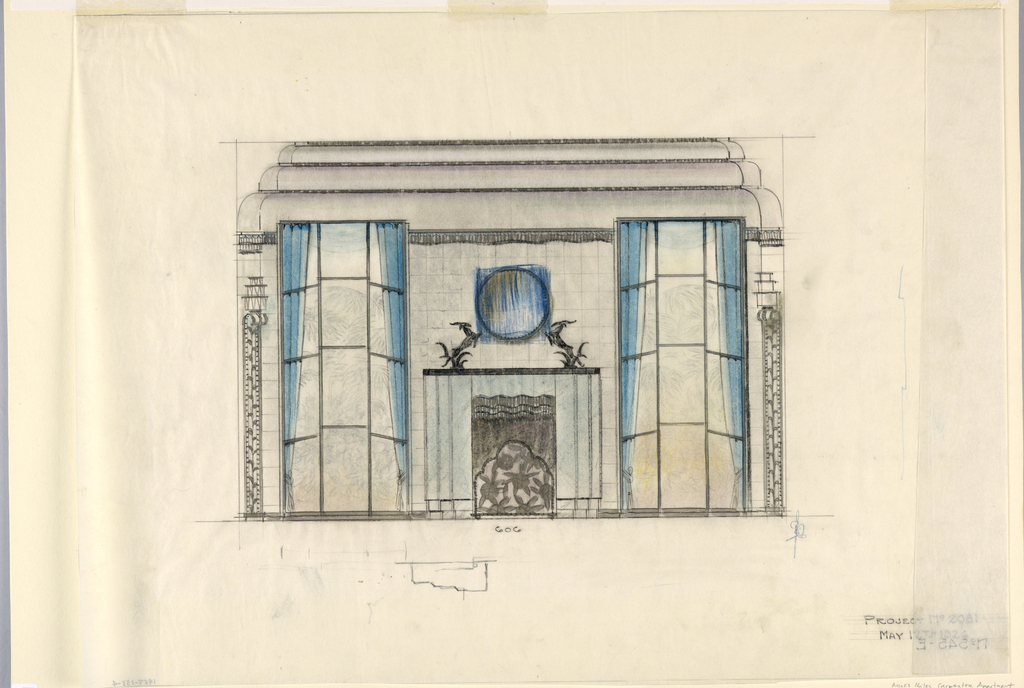 Drawing, Fireplace Wall Elevation, Dining Room, Agnes Miles Carpenter Residence, 950 Fifth Avenue, New York, NY
This is a drawing. It is dated 1926 and we acquired it in 1958. Its medium is graphite, blue and violet crayon, brush and silver paint on tracing paper. It is a part of the Drawings, Prints, and Graphic Design department.
Designer and decorator Jules Bouy embraced the use of wrought iron in decorative furnishings. In these renderings for the dining room of Miss Agnes Miles Carpenter on the upper east side of Manhattan, Bouy proposes a holistic interior scheme that features iron furniture set against white walls with accent colors of gray and blue. These elegant drawings, which are made with graphite and blue crayon, highlight the modernity of iron as a decorative material and as an organizing theme in interior design.
It is credited Gift of the Estate of Agnes M. Carpenter.
Our curators have highlighted 9 objects that are related to this one. Here are three of them, selected at random:
Its dimensions are
H x W: 37 × 56.4 cm (14 9/16 × 22 3/16 in.) H x W (Mat): 40.6 × 55.9 cm (16 × 22 in.)
It is signed
Signed, lower right: J. B.
It is inscribed
Inscribed in graphite, lower right: Project No. 2081 / May 12th / no. 545 - E.
Cite this object as
Drawing, Fireplace Wall Elevation, Dining Room, Agnes Miles Carpenter Residence, 950 Fifth Avenue, New York, NY; France; graphite, blue and violet crayon, brush and silver paint on tracing paper; H x W: 37 × 56.4 cm (14 9/16 × 22 3/16 in.) H x W (Mat): 40.6 × 55.9 cm (16 × 22 in.); Gift of the Estate of Agnes M. Carpenter; 1958-133-4