Cockade Fan (possibly France), ca. 1850
brocaded silk leaves, pierced bone handle and sticks, metal rivet with mother-of-pearl washer. Gift of Lea S. Luquer. 1958-148-2
What is this?
Cockade fan with a pierced bone handle and slender sticks supporting twenty-four silk ovals, each with sixteen scallops, all edges rolled and whipped. Each leaf is decorated at three points with brocaded colored silk flowers, and attached to the guards by a slender stick on back. The two end ovals adhere to guards that have portions sliding in groove, forming handle. Inner ends of sticks pivot on a metal rivet with mother-of-[earl washer.
We have
1 video
that features
Cockade Fan (possibly France), ca. 1850
.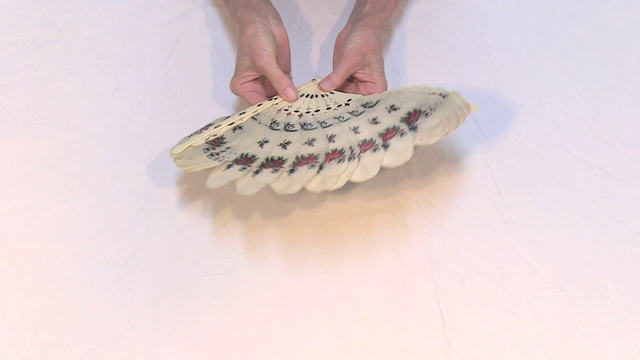 Demonstration of a cockade fan from the Cooper Hewitt Museum collection, shown opening and closing. The word "cockade" in this sense refers to the fact that the fan opens to a full circle.