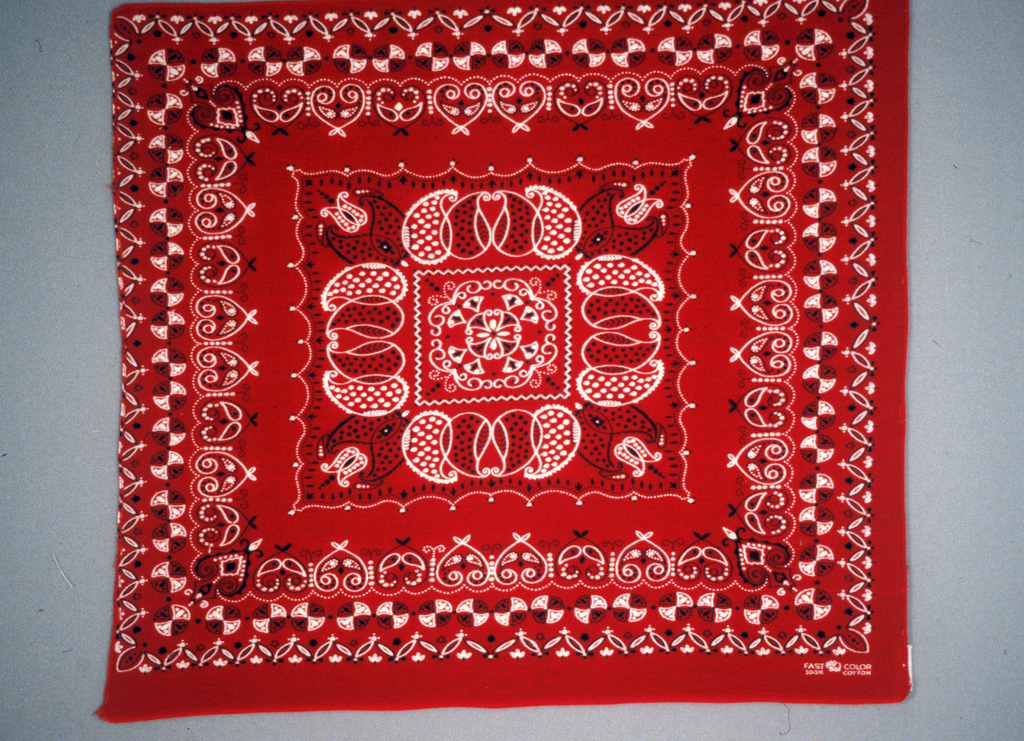 Object Timeline
| | |
| --- | --- |
| 1930 | Work on this object began. |
| 1950 | Work on this object ended. |
| 1986 | |
| 2013 | |
| 2015 | |
| 2019 | |
| 2022 | |
This is a Bandana. It was manufactured by Elephant Brand. It is dated 1930–50 and we acquired it in 1986. Its medium is cotton and its technique is printed and discharge printed by engraved roller on plain weave. It is a part of the Textiles department.


Bandanas, like the paisley motif they commonly feature, can be traced back to India. Indian tie-dyed silk scarves were the inspiration for the patterned handkerchiefs that later became symbolic of the American West.
This object was donated by Penelope McCain. It is credited Gift of Penelope McCain.
Its dimensions are
H x W: 53.3 x 48.9 cm (21 x 19 1/4 in.)
It is inscribed
FAST COLOR 100% COTTON
Cite this object as
Bandana (USA); Manufactured by Elephant Brand ; cotton; H x W: 53.3 x 48.9 cm (21 x 19 1/4 in.); Gift of Penelope McCain; 1986-40-17
This object was previously on display as a part of the exhibition Paisley.