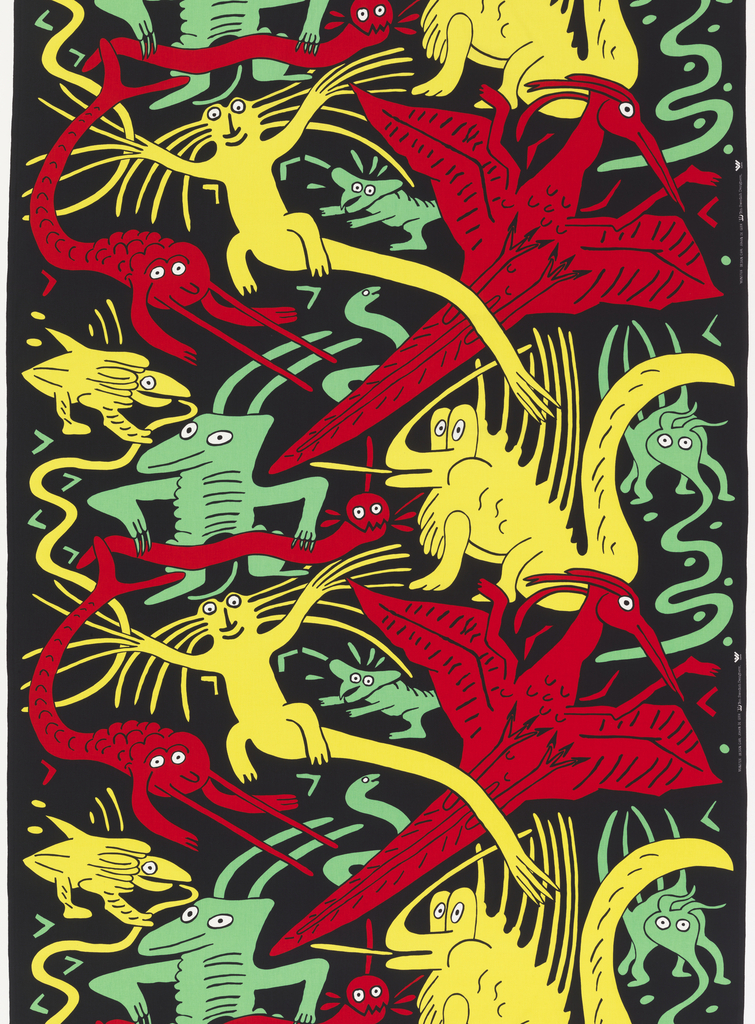 Object Timeline
1980

Work on this object began.

1989

We acquired this object.

Work on this object ended.

2013

2014

2023
This is a Textile. It was designed by Carl-Johann De Geer and company: Borås Wäfveri AB and made by Borås Wäfveri AB. It is dated 1980–89 and we acquired it in 1989. Its technique is screen printed on plain weave. It is a part of the Textiles department.
This object was donated by Borås Wäfveri AB. It is credited Gift of Borås Wäfveri AB.
Our curators have highlighted 3 objects that are related to this one.
Its dimensions are
Warp x Weft: 353 x 153 cm (11 ft. 7 in. x 60 1/4 in.) Repeat H (straight repeat): 102 × 146 cm (40 3/16 × 57 1/2 in.)
It is inscribed
Printed on one un patterned margin: " `Monster' CARL-JOHANN DE GEER 10 Ten Swedish Designers boras "
Cite this object as
Textile, Monster; Designed by Carl-Johann De Geer; Company: Borås Wäfveri AB; Sweden; Warp x Weft: 353 x 153 cm (11 ft. 7 in. x 60 1/4 in.) Repeat H (straight repeat): 102 × 146 cm (40 3/16 × 57 1/2 in.); Gift of Borås Wäfveri AB; 1989-66-3