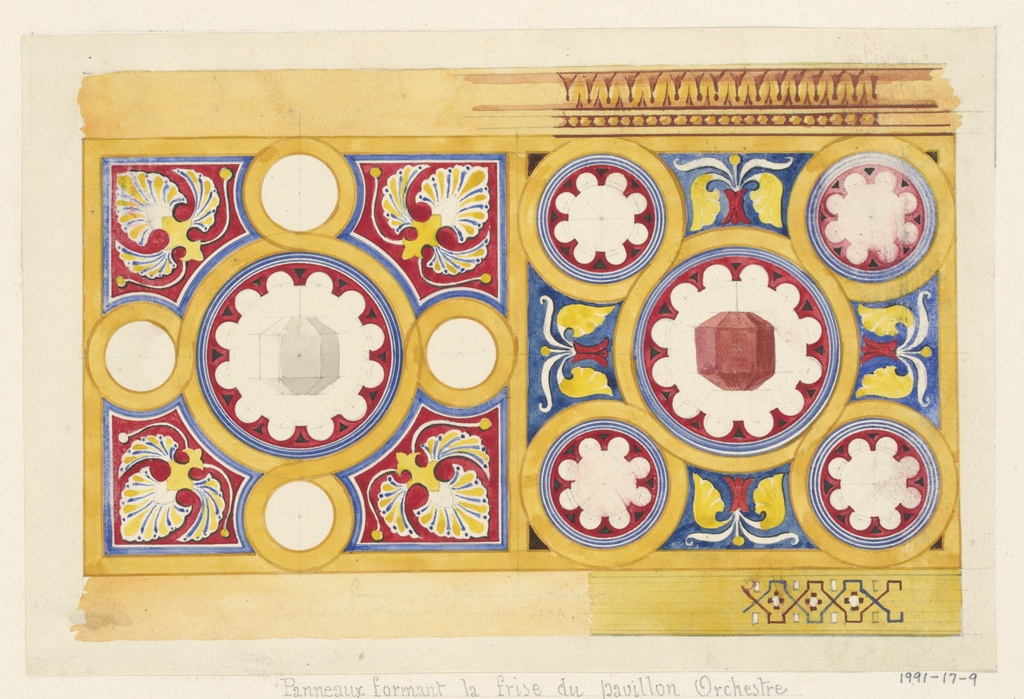 Drawing, Design for Decorative Panel for July Festival Architecture, 1834
This is a Drawing. It is dated 1834 and we acquired it in 1991. Its medium is brush, pen, watercolor, gouache, black ink, wash, graphite on off-white paper mounted on off-white laid paper. It is a part of the Drawings, Prints, and Graphic Design department.
Its dimensions are
Sheet: 14.6 x 22.2 cm (5 3/4 x 8 3/4 in.) Mount: 44.1 x 29 cm (17 3/8 x 11 7/16 in.) Mat: 45.7 x 35.6 cm (18 x 14 in.)
It is inscribed
(by a later hand) at upper margin of mount in graphite: Fêtes de Juillet 1834 (Mr. Duban); center of mount: Panneaux formant la frise du pavillon Orchestre/place dans le bassin des Tuileries; lower margin: Panneaux d'appui du même Pavillon.
Cite this object as
Drawing, Design for Decorative Panel for July Festival Architecture, 1834; France; brush, pen, watercolor, gouache, black ink, wash, graphite on off-white paper mounted on off-white laid paper; Sheet: 14.6 x 22.2 cm (5 3/4 x 8 3/4 in.) Mount: 44.1 x 29 cm (17 3/8 x 11 7/16 in.) Mat: 45.7 x 35.6 cm (18 x 14 in.); 1991-17-9