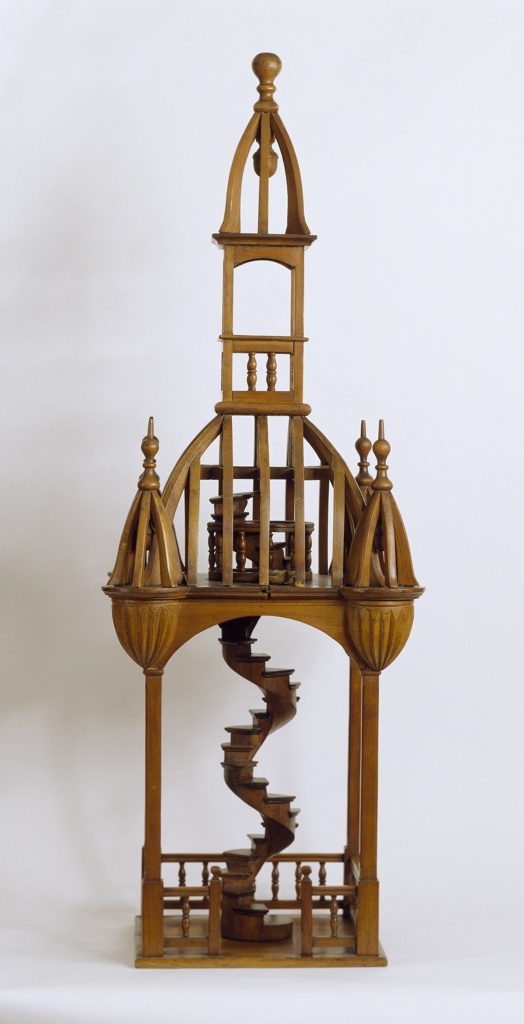 This is a Bell Tower Model. It is dated ca. 1880 and we acquired it in 2014. Its medium is carved and turned pearwood. It is a part of the Product Design and Decorative Arts department.
This masterwork is a virtuosity of joinery. Its ogival turrets with turned finials are a sign of the mastery of roof-making. In the mid- to late-19th century, masters of compagnonnage who combined their talents on a masterwork sometimes paraded the piece through the city in which it had been made or was to be exhibited. This staircase may be one such collaboration.
This object was donated by Eugene V. Thaw and Clare E. Thaw. It is credited Gift of Eugene V. and Clare E. Thaw.
Our curators have highlighted 8 objects that are related to this one. Here are three of them, selected at random:
Its dimensions are
H: 121 x W: 41.9 x D: 41.9 cm (47 5/8 x 16 1/2 x 16 1/2 in.)
Cite this object as
Bell Tower Model; carved and turned pearwood; H: 121 x W: 41.9 x D: 41.9 cm (47 5/8 x 16 1/2 x 16 1/2 in.); Gift of Eugene V. and Clare E. Thaw; 2014-11-1