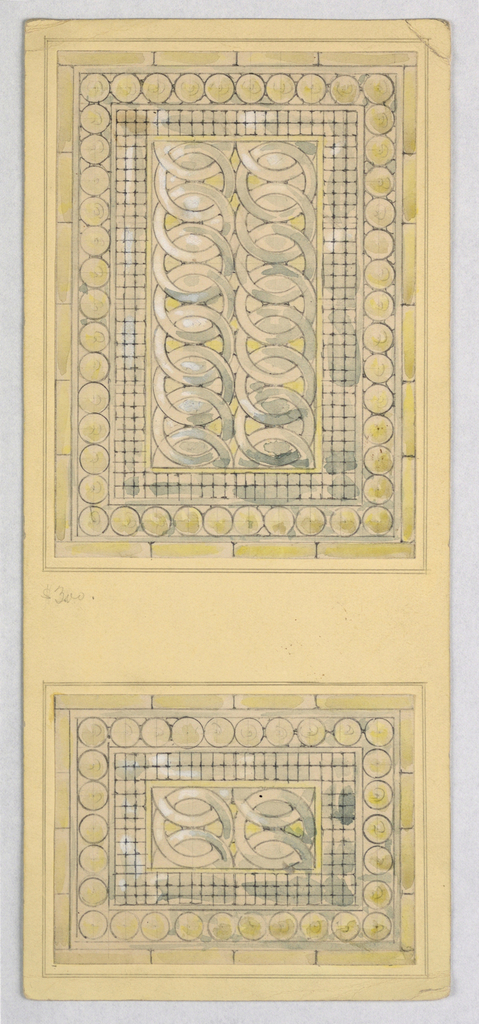 Drawing, Two Designs for Stained Glass Windows, late 19th century
This is a Drawing. It was designed by Alice Cordelia Morse. It is dated late 19th century and we acquired it in 2009. Its medium is brush and watercolor, gouache, graphite on cream wove paper. It is a part of the Drawings, Prints, and Graphic Design department.
It is credited Gift of Alice C. Morse.
Its dimensions are
Image (A): 14.3 x 10.2 cm (5 5/8 x 4 in.) Image (B): 7.1 x 10.2 cm (2 13/16 x 4 in.) Sheet: 27.7 x 12.1 cm (10 7/8 x 4 3/4 in.)
It is inscribed
recto, at bottom left corner of upper drawing, in graphite: $300 verso, in pen and blue-black ink: Return to / Miss A. C. Morse/ 88 Morton St - B'klyn
Cite this object as
Drawing, Two Designs for Stained Glass Windows, late 19th century; Designed by Alice Cordelia Morse (American, 1863–1961); USA; brush and watercolor, gouache, graphite on cream wove paper; Image (A): 14.3 x 10.2 cm (5 5/8 x 4 in.) Image (B): 7.1 x 10.2 cm (2 13/16 x 4 in.) Sheet: 27.7 x 12.1 cm (10 7/8 x 4 3/4 in.); Gift of Alice C. Morse; 2009-6-11-a,b