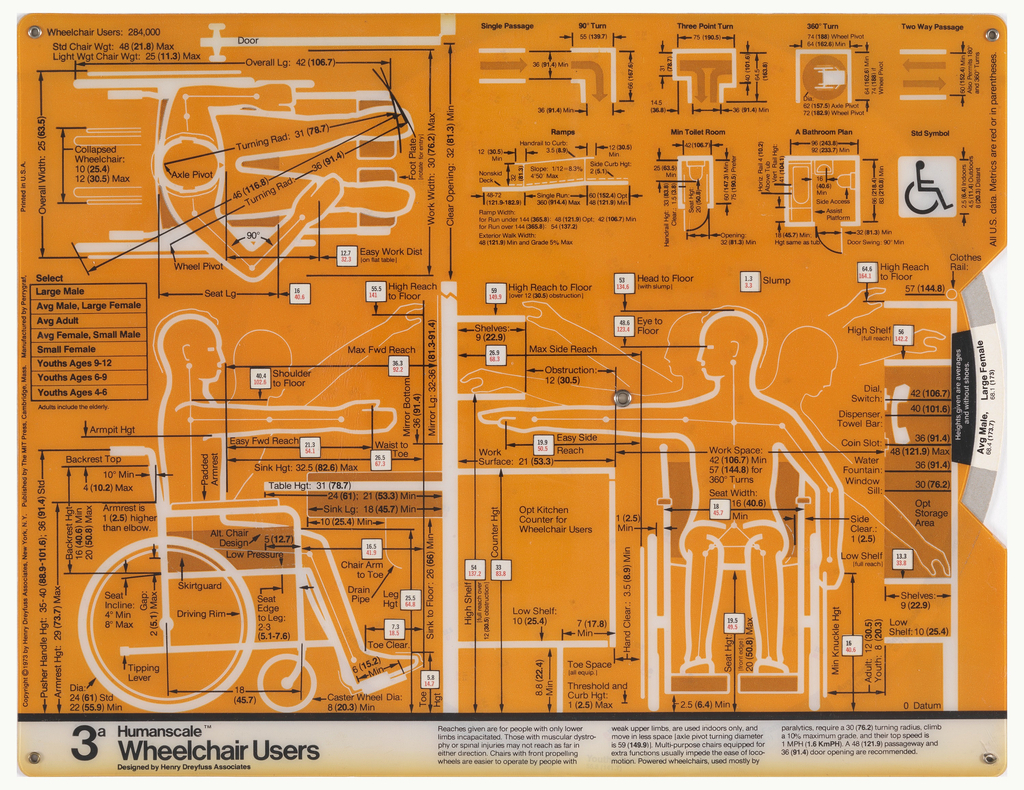 Object Timeline
| | |
| --- | --- |
| | |
| 1974 | Work on this object began. |
| 2014 | |
| 2022 | |
Template, Humanscale 3a: Handicapped and Elderly Selector
This is a Template. It was written by Henry Dreyfuss Associates and graphic design by Valerie Pettis.
This object is not part of the Cooper Hewitt's permanent collection. It was able to spend time at the museum on loan from Ellen Lupton as part of Beautiful Users.
It is dated 1974. Its medium is
offset lithograph on plastic with rotary wheels
.
Niels Diffrient worked for Henry Dreyfuss Associates from 1955 through 1980. He coauthored Humanscale, a series of tools that coordinate a user's height with dimensions such as shoulder width, head width, and thigh length. The wall graphic represents human bodies in the 50th percentile of standing height; numbers on the diagrams indicate dimensions for both lower and upper percentiles in a range encompassing 95% of American females.
It is credited Courtesy of anonymous lender.
Our curators have highlighted 3 objects that are related to this one.
Its dimensions are
H x W: 21.6 x 27.9 cm (8 1/2 in. x 11 in.)
This object was previously on display as a part of the exhibition Beautiful Users.