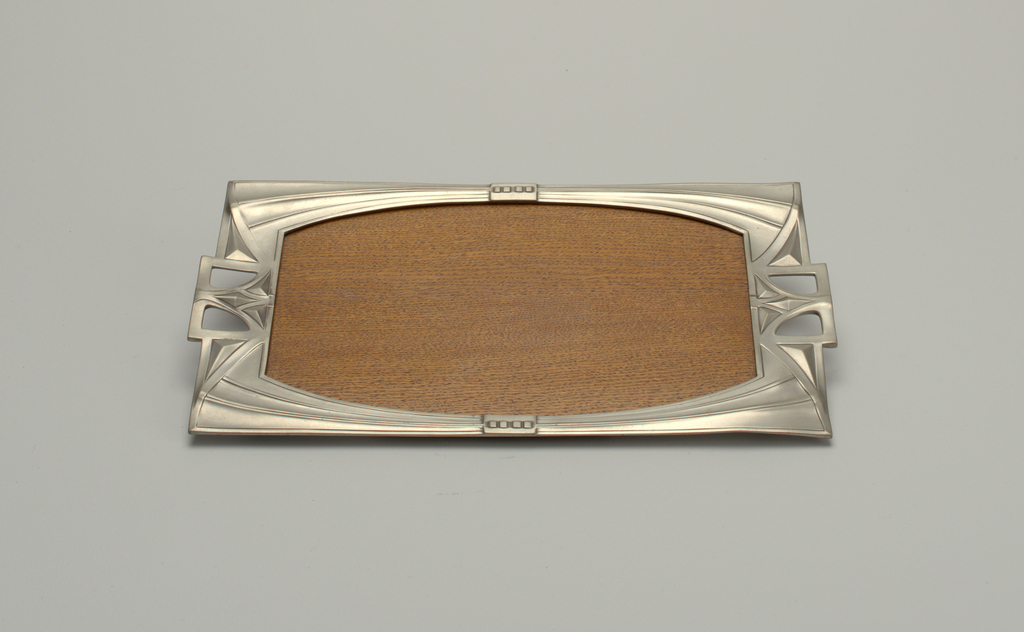 Object Timeline
| | |
| --- | --- |
| 1910 | Work on this object ended. |
| 2013 | |
| 2015 | |
| 2016 | |
| 2023 | |
This is a tray. It was designed by Peter Behrens. It is dated 1900–1910 and we acquired it in 2013. Its medium is pewter, walnut. It is a part of the Product Design and Decorative Arts department.
Architect Peter Behrens, who showed his interest early on in the Gesamtkunstwerk idea of a total look through design, developed lines of furniture, glassware and ceramics for the Wertheim Department store. He was also interested in the juxtaposition of different materials in a single object, such as the combination of pewter and wood in this tray. This tray's materials and decoration demonstrate the crafts tradition blended with Jugenstil ("Youth Style") elements.
This object was donated by Penelope Hunter-Stiebel and Gerald G. Stiebel. It is credited Gift of Gerald G. Stiebel and Penelope Hunter-Stiebel.
Our curators have highlighted 3 objects that are related to this one.
Its dimensions are
L x W x D: 38.4 x 21.6 x 2.5 cm (15 1/8 in. x 8 1/2 in. x 1 in.)
Cite this object as
Tray Tray; Designed by Peter Behrens (German, 1868–1940); pewter, walnut; L x W x D: 38.4 x 21.6 x 2.5 cm (15 1/8 in. x 8 1/2 in. x 1 in.); Gift of Gerald G. Stiebel and Penelope Hunter-Stiebel; 2013-49-20