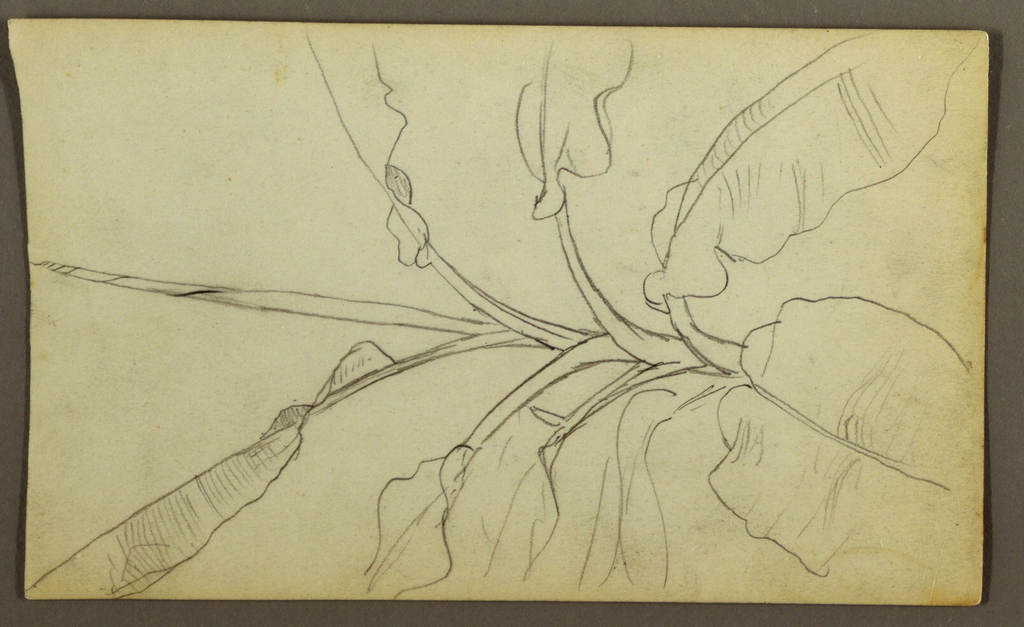 Drawing, Botanical Sketches, Ecuador, or Colombia; Verso: Botanical Sketches
This is a Drawing. It was created by Frederic Edwin Church. It is dated 1857 and we acquired it in 1917. Its medium is graphite on white wove paper. It is a part of the Drawings, Prints, and Graphic Design department.
This object was donated by Louis P. Church. It is credited Gift of Louis P. Church.
Its dimensions are
Sheet: 10.8 x 18.1 cm (4 1/4 x 7 1/8 in.) Mat: 10.8 x 18.1 cm (4 1/4 x 7 1/8 in.) Frame H x W x D: 60.3 x 44.8 x 2.5 cm (23 3/4 x 17 5/8 x 1 in.)
Cite this object as
Drawing, Botanical Sketches, Ecuador, or Colombia; Verso: Botanical Sketches; Frederic Edwin Church (American, 1826–1900); USA; graphite on white wove paper; Sheet: 10.8 x 18.1 cm (4 1/4 x 7 1/8 in.) Mat: 10.8 x 18.1 cm (4 1/4 x 7 1/8 in.) Frame H x W x D: 60.3 x 44.8 x 2.5 cm (23 3/4 x 17 5/8 x 1 in.); Gift of Louis P. Church; 1917-4-883