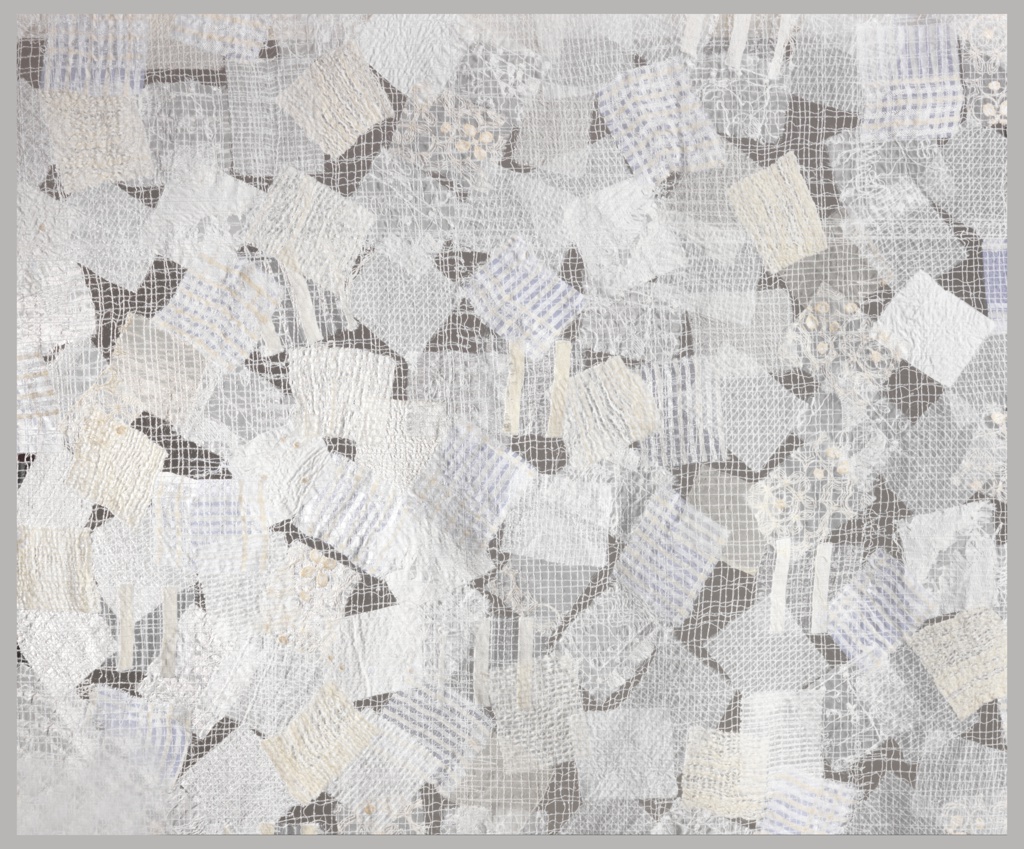 This is a Textile. It was designed by Reiko Sudo and manufactured by NUNO Corporation. It is dated 2002–03 and we acquired it in 2004. Its medium is variable and its technique is squares of fabric, machine stitched to water-soluble base cloth which is then dissolved. It is a part of the Textiles department.
Tsugihagi was designed by Reiko Sudo, one of Japan's most important contemporary textile designers. Educated at Musashino Art University, she and Junichi Arai were the co-founders in 1984 of the Japanese company and store, NUNO, which produces textiles of extraordinary ingenuity and beauty. Sudo and the other designers at NUNO combine tradition and advanced technologies with remarkable creativity, which led them to the forefront of textile design field.
In 1996, NUNO began working with various kinds of embroidery techniques to create new effects. Tsugihagi, designed in 1997, is a combination of embroidery and collage techniques made with remnants of NUNO fabrics that are laid out to cover the surface of a base fabric. The remnants are stitched down by sewing machine, and the base fabric is dissolved away leaving a lacy and net-like patchwork of different fabrics. Tsugihagi can be used as a window covering or for other interior purposes. This type of embroidery technique, in which the ground fabric is destroyed, began in the early 1880s when animal fibers were more than likely used because they could be dissolved by a solution of caustic soda or potash, leaving the embroidery thread of vegetable fibers intact.
This object was donated by NUNO Corporation. It is credited Gift of the Nuno Corporation.
Our curators have highlighted 3 objects that are related to this one.
Its dimensions are
H x W: 293 x 79 cm (115 3/8 x 31 1/8 in.)
Cite this object as
Textile, Tsugihagi; Designed by Reiko Sudo (Japanese, b. 1953); Manufactured by NUNO Corporation (Japan); Japan; variable; H x W: 293 x 79 cm (115 3/8 x 31 1/8 in.); Gift of the Nuno Corporation; 2004-18-2