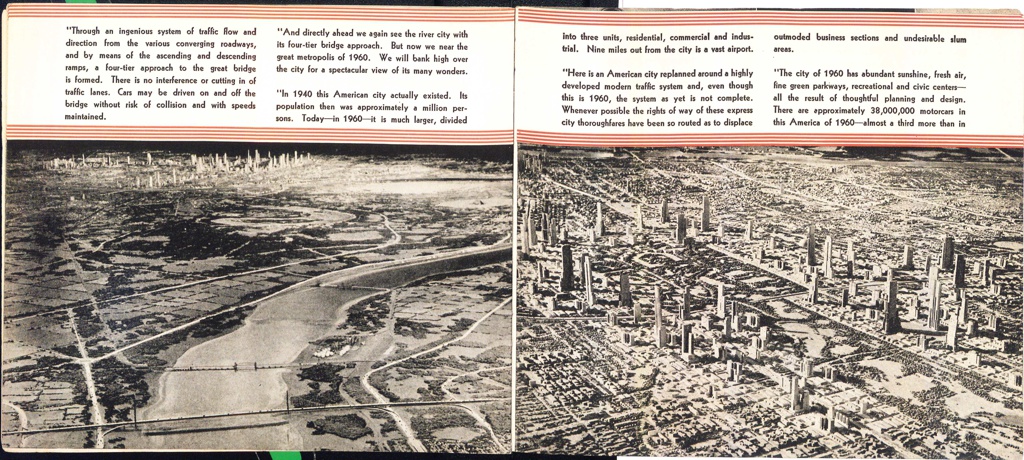 Object Timeline
| | |
| --- | --- |
| | |
| 1939 | Work on this object began. |
| 2018 | |
| 2023 | |
This is a Book. It was designed by Norman Bel Geddes and made for (as the client) General Motors.
It is dated 1939. Its medium is
offset lithograph on paper
. It is a part of the
department.
Since the dominance of streets by cars at the beginning of the 20th century, American designers have persistently envisioned a future of better-designed cities navigated by futuristic vehicles.

The Futurama exhibit was one of the most popular pavilions in the 1939 World's Fair. Designed by Norman Bel Geddes, the huge diorama presented a section of the U.S. revitalized with improved and expanded highways. The miniature streets, towns, homes, and vehicles imagined a future designed for a continually improving automobile that would be increasingly important to daily life.
It is credited Smithsonian Libraries, T785 K1G32 1939.
Our curators have highlighted 5 objects that are related to this one. Here are three of them, selected at random:
Its dimensions are
18 × 41.5 cm (7 1/16 × 16 5/16 in.)