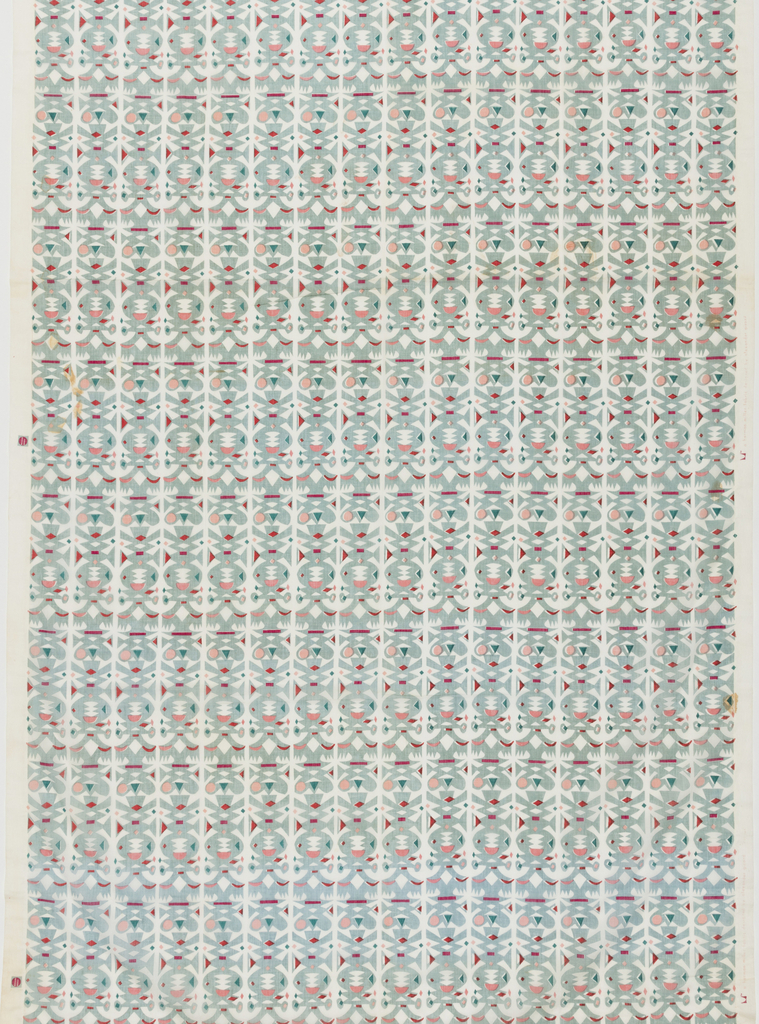 Object Timeline
| | |
| --- | --- |
| | |
| 1954 | Work on this object began. |
| 2016 | |
| 2022 | |
This is a Textile. It was designed by Alexander Hayden Girard and manufactured by Herman Miller Textiles. It is dated 1954. Its medium is cotton and its technique is screen printed. It is a part of the Textiles department.
Alexander Girard was an avid, and prolific, collector of folk art from around the world. He donated his collection of over 160,000 pieces to the Museum of International Folk Art in Santa Fe in 1978. One of many things he collected in-depth were Polish cut-paper designs, or wycinanki.
Cut-Out, with its totemic, abstract vegetal forms, bears a strong resemblance to some of the items in Girard's collection. He was deeply inspired by the designs, with their clear, simply communicated patterns and complex, balanced use of positive and negative space—features which would distinguish his later work. He also saw advantages in the technique, as the layering of translucent paper approximated the over-printing of sheer textile inks to create blended colors. Several of his most compelling designs, including Feathers, Ribbons, Crosses, and Cut-Out, were created using this technique.
This object was donated by George R. Kravis II. It is credited Gift of George R. Kravis II.
Its dimensions are
Warp x Weft: 269.2 × 125.1 cm (8 ft. 10 in. × 49 1/4 in.)
Cite this object as
Textile, Cut-Out; Designed by Alexander Hayden Girard (American, 1907–1993); cotton; Warp x Weft: 269.2 × 125.1 cm (8 ft. 10 in. × 49 1/4 in.); Gift of George R. Kravis II; 2018-22-130