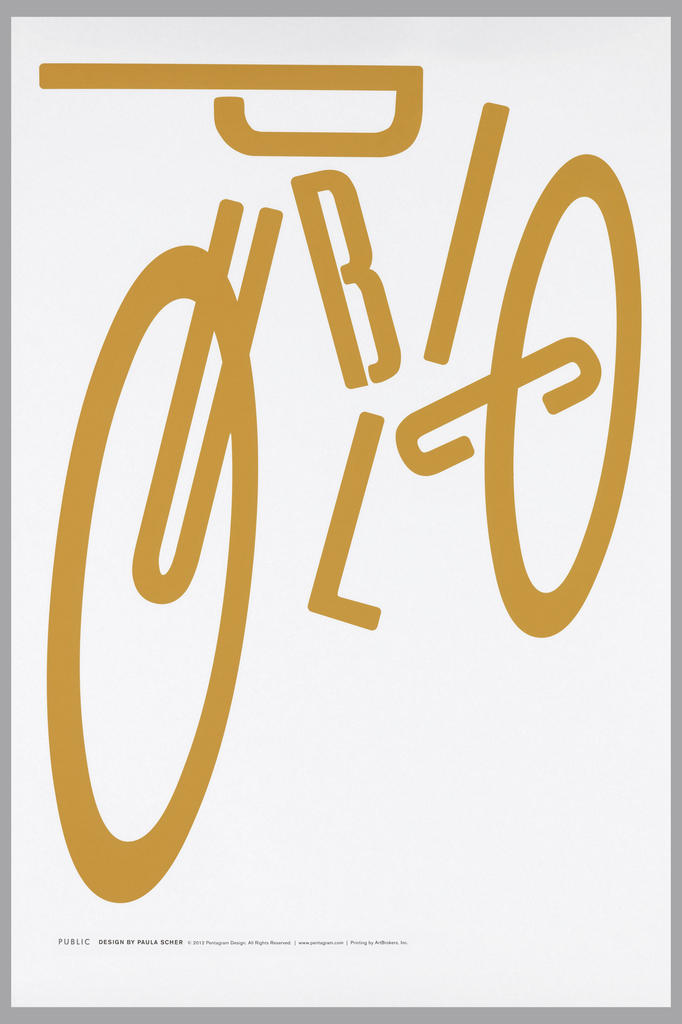 Object Timeline
| | |
| --- | --- |
| 2012 | Work on this object began. |
| 2013 | |
| 2023 | |
This is a Poster. It was designed by Paula Scher. It is dated 2012 and we acquired it in 2013. Its medium is digital offset lithograph on paper. It is a part of the Drawings, Prints, and Graphic Design department.
This poster was designed as a promotion for PUBLIC, a bicycle and gear company based in San Francisco. Paula Scher was among a group of 27 international designers invited to "interpret the concept of 'public' with a vision to reclaim urban streets, sidewalks and spaces for walking, biking and other social purposes." In her interpretation, Scher morphs typographic form to suggest the shape of a bicycle in vivid orange.
This object was donated by Paula Scher. It is credited Gift of Paula Scher.
Our curators have highlighted 2 objects that are related to this one.
Its dimensions are
91.4 x 68.6 cm (36 x 27 in.)
It is inscribed
Printed in black ink, lower margin: © 2012 Pentagram Design. All Rights Reserved
Cite this object as
Poster, Public; Designed by Paula Scher (American, b. 1948); USA; digital offset lithograph on paper; 91.4 x 68.6 cm (36 x 27 in.); Gift of Paula Scher; 2013-25-10